When you automate business processes using Signavio Process Governance, you can use milestone events to explicitly track process status. This article describes how to model process milestones and use them for better visibility of work in progress.
Status milestone events
In an employee onboarding process, for example, each new employee progresses through a number of phases in the process:
Hired - starting when the new employee signs a contract
Induction - when the employee first arrives at the office
Trial period - when introductory training is complete and normal work starts
The start of each phase corresponds to a process milestone that changes the process 'status' of the case. In the onboarding example, when a new employee has completed induction training during the first week or two at the company, the trial period starts. The milestone name is what you would tell someone who asked what the status of the new hire was.
In process modeling terms, these milestones are process events between other activities:

More specifically, in Business Process Model & Notation (BPMN), a Status milestone is an 'intermediate event.' Signavio Process Governance makes this available as a milestone activity.
Modeling process milestones in Signavio Process Governance
First, start with an onboarding process that includes the process tasks. In this example, these are grouped into sub-processes. However, this model doesn't clearly communicate where the three phases start.

To use a milestone in Signavio Process Governance, add it to the process flow at the start of the corresponding phase. Select the milestone to enter its name and a 'Milestone description', which will become the value of the 'Case / Milestone' variable.

The 'Milestone description' can also include process variables, which you enter by typing a '#' for a task name template.
Browsing case milestones
Process milestones give you visibility of the status of open cases. In Signavio Process Governance, you can view these status milestones on the Cases overview.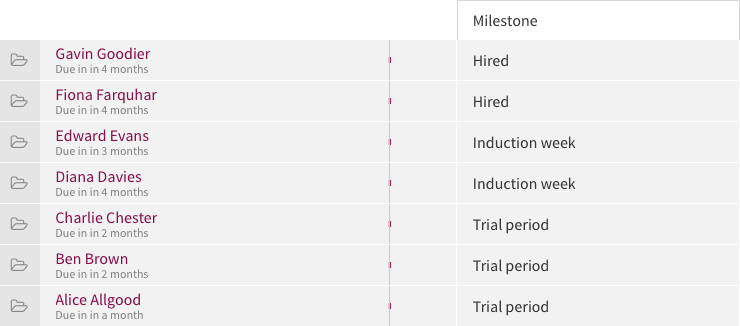 Add the milestone column as follows.
In the menu bar, select 'Cases'
On the cases overview page, select 'Configure columns.'
Below the list of selected columns, select 'Case / Milestone' from the drop-down menu to add it to the column list.
In the column list, edit 'Case / Milestone' and change it to 'Milestone.'
Select 'Back to the table' to view the table with the 'Milestone' column.
This gives you a basic overview of case statuses. For more flexible visibility, use the Analytics functionality to create a report that shows process milestones.
Reporting on open cases by milestone
If you're managing an onboarding process, you need an up-to-date overview of the new hires at each stage in the process. To do this in Signavio Process Governance, create a report that gives you an overview of open cases, grouped by process milestones.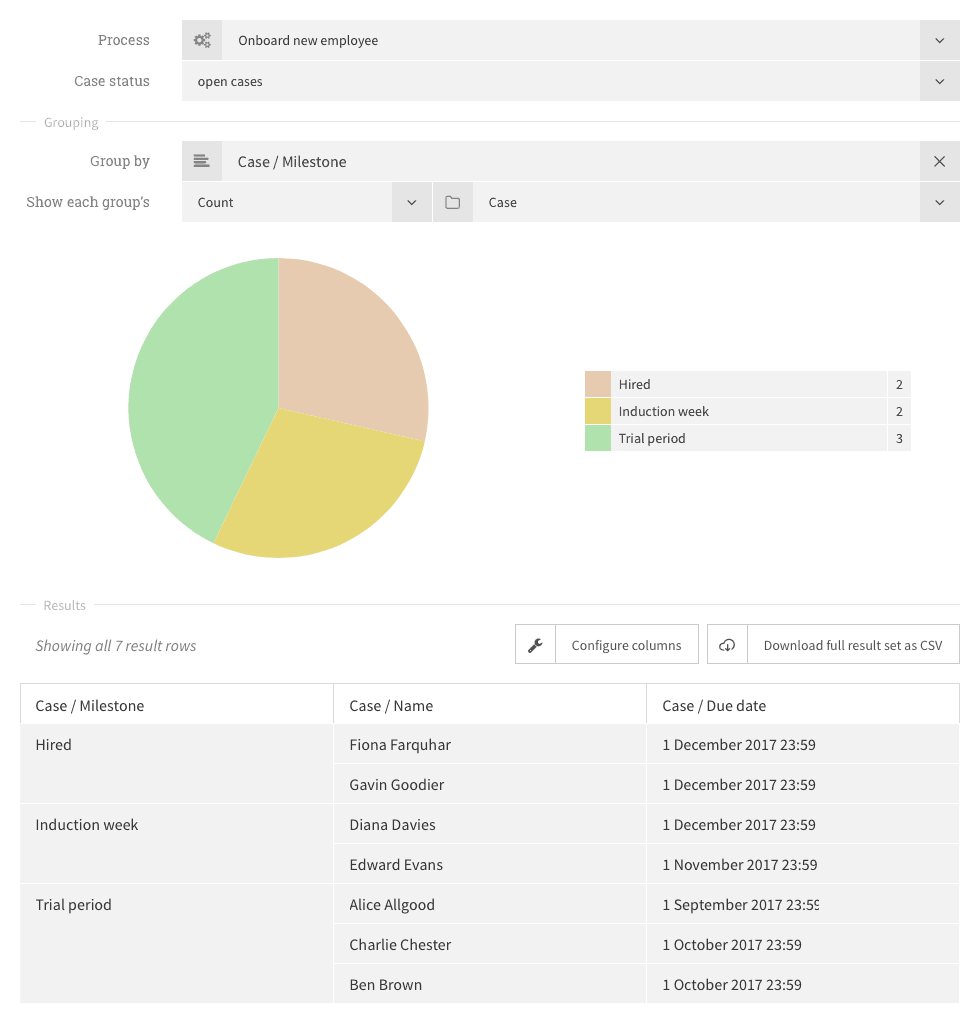 Create this report as follows.
In the menu, select 'Analytics.'
On the Analytics page, select 'Create new report.'
Enter a report title, 'Onboarding - New hires.'
For 'Process', select the 'Onboard new employee' process.
For 'Case status', select 'open cases.'
For 'Group by', select 'Case / Milestone.'
Now you can use the pie chart and table to see how many new employees there are at each stage, and who they are.
Straightforward process milestones
Process milestone events illustrate how you can improve your process models to make their structure clearer at the same time as getting better visibility of work in progress. If you want to reach your own Signavio Process Governance process milestones, then register for a free 30-day trial today.
Published on: August 8th 2017 - Last modified: November 13th, 2020