Human resources (HR) processes often benefit from workflow automation, so that HR teams can standardise the way they work, and so they can keep track of overlapping cases that may take weeks to complete. This article introduces the 'onboarding' process, plus some interesting variations.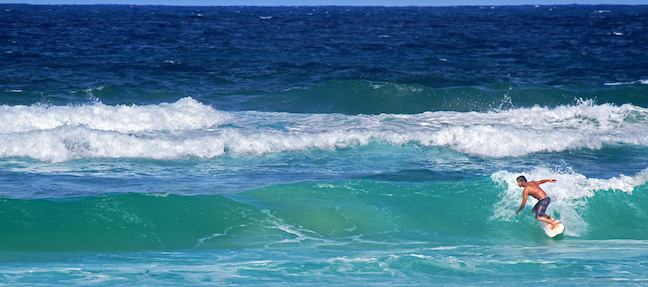 The onboarding process starts from exactly where the hiring process ends: when a job applicant signs an employment contract. What happens next, however, varies more between companies than recruitment processes do, so automating it requires plenty of flexibility.
Administrative process
When you standardise an onboarding process, you start by making sure that all of the administrative tasks for a new employee get done. For example, the Staff Squared onboarding checklist (PDF) includes a number of practical tasks, such as the following.
CEO welcome (management)
Company accounts (e.g. email) and group memberships (IT)
Physical resources - desk, computer, telephone etc. (office facilities)
Add to payroll and set-up paperwork (Finance)
Plan training (HR)
Plan first assignment(s) (HR/management)
First day tasks: tour, introductions (management)
First month: longer-term plans, e.g. performance objectives (HR/management)
After a few months: review progress (HR/management)
In Signavio Workflow, you might summarise these tasks using the following process, which has plenty of complexity to get you started.

These tasks do not all belong to the HR department, which means that HR will have to coordinate with management and IT, for example. If this doesn't work well, employees waste the first day waiting for essentials such as a laptop to work on or a desk to sit at.
This becomes an HR issue when you realise that this gives the new hire a bad first impression of your company, which their friends - other potential hires - will hear about. As a result, several companies have introduced some new ideas to their onboarding processes.
Learning process
Independent consultancy Yay4Monday characterises the onboarding process differently to the previous section's list of administrative tasks. Principles of Successful Onboarding Process starts with the realisation that:
'Onboarding is a learning process
'New employees learn about the values, structures, processes, colleagues and products an organisation has. The organisation learns about the values, habits, skills and behaviour of new employees.'
This changes the onboarding process goal from just 'getting some administrative chores done' to include learning goals. In Signavio Workflow, use the process details to capture the process goal: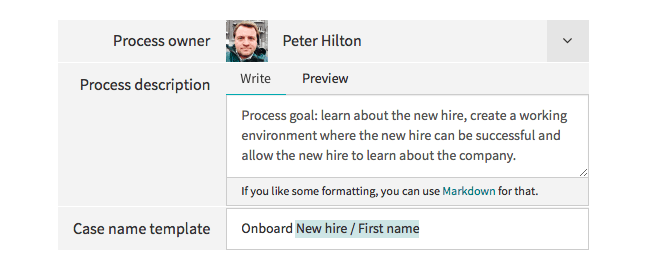 The new hire and company need to learn about each other in order to develop a successful and productive working relationship. In particular, new hires need to learn the company culture to become effective.
Company culture
Percolate's onboarding process focuses on infusing new hires with the company culture. This starts with sending the new hire a welcome pack including branded swag, including a t-shirt and a mug:
'Most notably, each new hire receives a Kindle. "That's linked to a core idea that we are a learning organization. It's our responsibility to help encourage people to continue to read and make themselves better"'
In Signavio Workflow, you can make this kind of change to a process that you have started using, to improve the process for future cases. For example, add a Send new hire welcome pack task to the start of the process, right after the new hire has signed a contract:

For the next step in exposure to the company culture, new hires spend their first week at the head office, starting with a packed schedule for the first two days:
'Default to filling new hires' calendars. Don't leave them with the feeling that you're surprised that they showed up.'
Another detail helps new hires feel like they belong to Percolate: a photographer takes professional headshots for all new hires, so all employees have similar profile photos to use online. No wonder new hires start with full calendars.
Meanwhile, you can change onboarding in more ways than adding process tasks. You can also use Signavio Workflow to give more visibility to the most important process participant.
Process visibility for the key stakeholder
In another article, Yay4Monday explains that the first day is too late for a new hire to start learning about your company, and what current events. A new hire needs visibility of their own onboarding process before the first day:
'Let your new employees to join internal events and take part in all conversations before they even start working. It decreases their fear, increases confidence, shortens an integration time.'
When you help a new hire understand connect to the company before their first day, by giving them access to internal communication channels, you should start with Signavio Workflow. The new hire has the biggest stake in the onboarding process, and will benefit from the process visibility they get from Signavio Workflow
Signavio Workflow also gives process participants the opportunity to collaborate on a process. In fact, collaborating with new colleagues during their own onboarding process gives a new hire their first opportunity to build a network at their new company.
Building a network in your new company
Yay4Monday notes that opportunities for building a network can add value to an onboarding process:
'Helping new employees to make valuable connections and, maybe, friends is a must-have goal for any onboarding process. New employees adapt faster, get more from company from the first day and are more satisfied and productive.'
New hires at Netlight, for example, get a list of colleagues to have lunch with. This includes the new hire in the onboarding process by giving them their own tasks to complete, just like first day tasks to introduce themselves to the company.
By using Signavio Workflow to assign onboarding process tasks to a new hire and give them access to their own onboarding case in Signavio Workflow before their first day, you can do a lot to make the onboarding process smoother. Not only will you make it more efficient, but you will make the kind of great impression on new hires that they'll want to tell their friends about.
Photo: Graham Cook / CC BY 2.0
Published on: March 30th 2016 - Last modified: September 12th, 2022