Creating "frictionless" experiences
For years, we've been hearing about changing customer expectations, and the importance of the customer experience. The customer journey across digital and offline channels is getting more complex, meaning omnichannel customer service is the norm, and the pressure is on to provide "frictionless" experiences.
Harvard Business Review reports that "a good customer experience makes a person five times more likely to recommend a company and more likely to purchase in the future." PwC found that "73% of all people point to customer experience as an important factor in their purchasing decisions. Yet only 49% of US consumers say companies provide a good customer experience today." Why is creating a good — not even stellar — customer experience so difficult?
Companies are making a deliberate shift to react to the connection between customer satisfaction and business outcomes. But delivering new services into the market, or improving existing ones, often means fundamental changes within an organization. Visual tools can help cut through complexity by making the processes that impact customer experience tangible and actionable. That's where journey mapping comes in.
Companies won't be able to solve their customer experience problems with technology alone — it's just the enabler. Focus on experience to realign priorities.
This article introduces journey mapping as an organization-wide tool to align around the customer, also known as a customer-centric approach. We'll explain what journey mapping is (and isn't), how it can be used and measured, and share best practices and resources to get you started.
What is Customer Journey Mapping (CJM)?
A customer journey informs customer journey mapping which produces a customer journey map.
In its most basic form, a journey map is a visualization of the steps that a person goes through in order to reach a goal. Customer (or buyer or user) journey mapping is the process of creating a visual map of all the touchpoints throughout a customer's journey with your company, from discovery, to purchase, to post-purchase and retention.
Journey mapping is qualitative research that helps companies understand the experiences, challenges, and frustrations of their customers. It helps customer facing teams identify and understand customers' needs, reactions and emotions to experiences delivered to them by the organization, and is used to influence and drive customer behavior by providing experiences that directly address the customer's needs.
There is no one format or style for developing journey maps, however most journey maps include these elements:
Persona (or actor): the typical customer or user the map is about.
Scenario: the desired action or goal the persona is trying to accomplish.
Actions: steps completed by the persona and by others during the journey.
Motivations: user thoughts, emotions, why the persona did something.
Moments of truth: points of pain or delight that make or break the journey for the persona.
Opportunities: where the journey can be improved. Opportunities make the map actionable.
Two elements that show up less frequently are:
Handoff points and ownership: where interactions transition from one team or person to another. This highlights accountability.
Metrics: how success is judged, allowing teams to assess whether changes have actually improved the experience.
---
Can you have too much of a good thing? Watch out for common traps with our list of
5 Signs Your Processes May Damage Customer Satisfaction
---
What exactly is a journey map?
There are many ways to show how to get from Point A to Point B. Approaches to process improvement have evolved over the last thirty years, and especially rapidly over the last decade. This means the roles which contribute to the process management profession and the terminology used to describe it have been fluid.
Each of the terms below describe something that is a visual representation, with steps or stages. The areas of difference between the terms relates to who is creating the map, who the map is about, how complex the experience represented is, and what it is trying to explain or impact.
| | | |
| --- | --- | --- |
| Term | Defined | Origin |
| Journey map | A visual representation of all the touchpoints throughout a customer's journey with your company, from discovery to purchase and retention. | Service design |
| Process map | Visual representation of the flow of work and the steps and people involved in a business process. | 1900's by Frank Gilbreth; popularized by Six Sigma |
| Experience map | Focuses on interconnectivity, illustrates the broader, more complex journey a customer has while experiencing a product or service, including what competitors and your business are doing relative to this journey. The parent of a journey map. | User experience design |
| Service blueprint | Visualization of the relationships between service components (people, things, processes) needed to optimized how a business delivers on a user experience. A service blueprint goes beyond a customer journey map and allows you to understand a customer from a more holistic viewpoint, including the work and processes that go into creating and delivering an experience. | Service design / user experience design |
| Storyboard | Taken from advertising and filmmaking, a visual sequence of events to illustrate steps in an experience. Includes scenario, visuals, captions. May describe a fragment of a journey. | Silent film |
| User story | Used to plan features, functionality | Agile |
| User flow | A visualization of different paths that can be taken by a user when engaging with an interface | Agile |
| Workflow diagram | Graphical overview of a business process. Often developed by business analysts using UML notation | 1920's by Henry Gantt and Frederick Winslow Taylor |
'Mapping' vs. 'Modeling'
You'll see the terms customer journey 'mapping' and 'map' used throughout this post, in order to ensure consistency. In fact, the terms customer journey 'map' and 'model' are often used interchangeably. However, there is a difference!
The difference between an isometric customer journey map and a tabular customer journey model is like the difference between a hand-drawn map and a modern GPS app: they both get you to where you're going but one offers better functionality, including giving the user much more information. A tabular customer journey model offers a richer picture of where customers are along their journey, in particular by connecting customer experience data with process mining analysis.
If you are just beginning your work on investigating how customers interact with your organization's internal processes, this distinction will be largely academic. As you progress along the road to building exceptional customer experiences, however, the more sophisticated and data-rich customer journey models will become increasingly important.
Important Customer Journey Mapping Terms
Here are top terms to know as you navigate the world of user and customer experience.
Customer experience (CX): the interactions and perceptions a customer has related to a company. Customer experience is how a customer feels through the entire customer lifecycle, whereas a customer journey captures what the customer does in a stage of the lifecycle.
User experience (UX): what a user experiences when interacting with a user interface. UXMatters offers this broader definition; "all aspects of digital products and services that users experience directly — and perceive, learn, and use — including products' form, behavior, and content, but also encompassing users' broader brand experience and the response that experience evokes in them."
Customer experience management (CEM): the process of executing, managing, and optimizing how a customer's experience aligns with business performance.
Design thinking: a human-centric, iterative problem-solving process focused on five phases — Empathize, Define, Ideate, Prototype and Test. It is most useful to tackle problems that are ill-defined or unknown.
Service design: Service design improves the experiences of both the user and employee or service provider by designing, aligning, and optimizing an organization's operations to better support customer journeys. It includes customer journey mapping.
What about MUCE and ROX?
Consultancies like Gartner and PwC have introduced some new acronyms and models around the value of mapping experiences.
Multi Experience (MX) is an approach that integrates the Employee Experience (EX) with the Customer Experience (CX). The idea behind MX is that by making it easier for employees across departments to serve customers there is bi-directional benefit in removing friction from the customer experience. MUCE is MX + UX + CE+ EX and reflects the full digital experience. Gartner also calls this "total experience," i.e. the combination of, as well as interplay between, customer experience, user experience and employee experience to impact and transform business outcomes. It is one of their top 10 tech trends for 2021.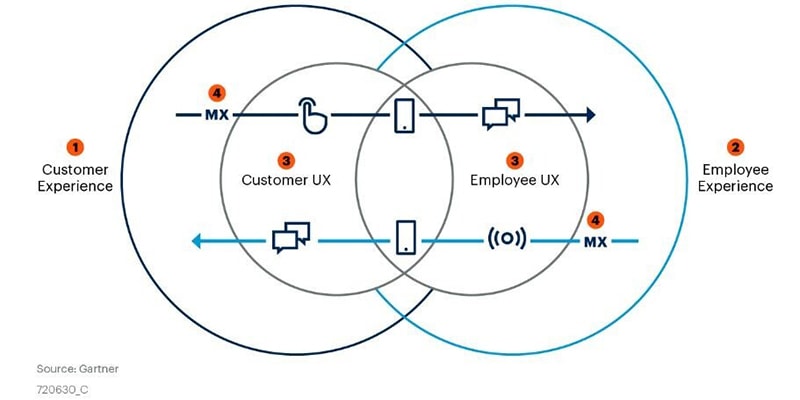 PwC adds in LX, or Leadership Experience, to how they assess a holistic approach to "outside-in" change. ROX, or Return on Experience, is what they call a "holistic approach to understanding and increasing the value of your investments across customer experience (CX), employee experience (EX) and leadership experience (LX)."
ROX requires the collaboration of the roles of the chief marketing officer (CMO), chief information officer (CIO), chief human resources officer (CHRO), and chief digital officer (CDO) for transformative change.
These models emphasize frequent communication, assessing and improving experiences by looking at where different groups intersect, and driving improvement by prioritizing customer needs vs. only bottom line or return on investment metrics.
The History of Journey Mapping
Journey mapping has roots in product design, user experience, design thinking, and service design. ServiceDesignTools provides an illustration to show how the practices of social science, business, technology and design have developed tools that help organizations understand the people they are designing for and serving.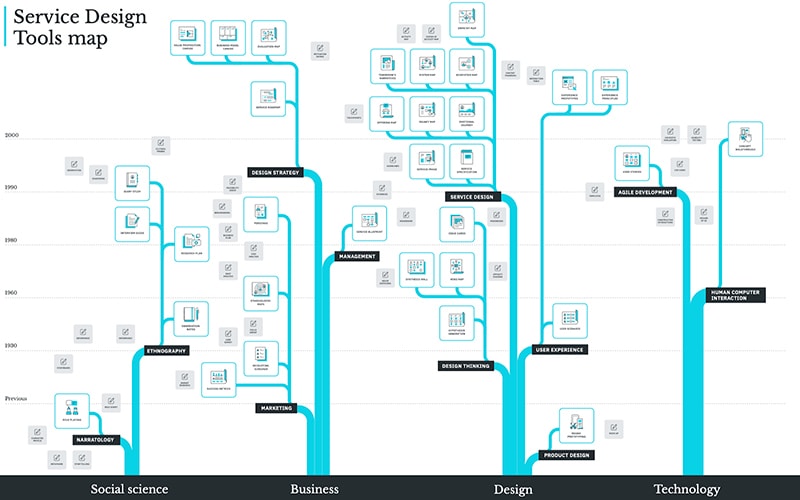 ServiceDesignTools also lists a number of important dates in the evolution of journey mapping, including:
1950s: Process improvement established as a methodology through Total Quality Management (TQM) and Quality Circles.
1982: "Service design" coined by G.Lynn Shostack in Harvard Business Review
1989: Service mapping is mentioned in the book, "Service Wisdom" by Chip Bell and Ron Zemke
1998: OxfordSM first uses customer journey mapping for Eurostar.
Why Businesses Need Journey Mapping Now
Building on this long history, a wealth of research from the last couple of years reinforces the importance of customer experience for retaining customers:
The Benefits of Customer Journey Mapping
Great customer experience leaves consumers feeling seen, heard and valued. Mapping your customer journey means you can provide these great experiences more easily, creating a lasting positive impact on a company's bottom line, from revenue benefits to operational agility and departmental efficiency. In other words, a great customer journey map builds organizational alignment around the customer experience.
Revenue benefits
According to year-on-year growth research on customer journey mapping conducted by The Aberdeen Group, effective CJM will deliver:
Reduced costs
Brands see almost 10x (1000%) improvement in the total cost of customer service.
Increased sales
CJM is essential for optimizing both sales and marketing practices.
Brands that use CJM enjoy an average sales cycle that is 18 times faster, with 56% more revenue from up-selling and cross-selling efforts.
Marketing practices experience a 54% greater return on marketing investment.
Greater customer and employee satisfaction
As customers are given the experiences they expect, satisfaction naturally increases, leading to a 24% increase in positive social media comments.
Operational and organizational benefits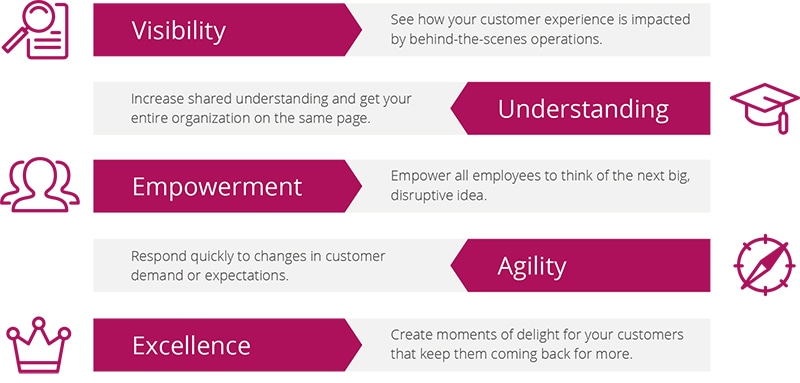 Who Leads and Participates in Journey Mapping Efforts?
Many enterprises now have a chief customer officer (CCO) or chief experience officer (CXO) who is responsible for customer experience efforts. This is a significant change from just a few years ago, with Gartner reporting that "only around 10% of organizations have no CXO or CCO (or equivalent) today, compared to 39% two years ago. More than 70% of these leaders report directly to the CEO or COO while 18% report to the CMO."
---
To discover more about the strategic role of the Chief Customer Officer, listen to our interview with Yamani Rangan, CCO at HubSpot, on Signavio's very own podcast: Art of the Pivot.
---
Regardless of reporting structure, the most successful process improvement efforts have a sponsor, a project leader, and a collaborative, cross-functional team contributing to the effort. The benefit of dedicated CX leadership is accountability; for measurement, governance and leadership to ensure consistency and reduce conflict between different activities aiming to enhance customer experience for an organization.
What Does Customer Journey Mapping Mean for BPM Leaders?
Customer journey mapping is a visual tool to facilitate collaboration in change management initiatives by creating a shared vision around a goal. Maps can increase customer empathy and understanding around the points of interaction businesses have with their customers.
Transformation initiatives
Transformation initiatives can only succeed when companies overcome the bias towards "the way things have always been done." Customer journey mapping gives you a fresh perspective to imagine innovative business models. It also creates excitement for change by providing employees the context and purpose of their work.
Operational excellence
Even the most efficient process can be a waste if it isn't contributing to the overall customer journey. Before embarking on a major operational excellence project, you first need to understand where the customer journey should be improved. Those processes should then become a priority.
Risk & compliance
Every interaction with a potential customer involves risk. Not only the risk of losing a customer, but also the risk that a non-compliant action is being taken. Customer journey mapping creates transparency around these interactions and provides visibility into underlying decisions.
With Signavio, all these initiatives can easily be communicated throughout the enterprise by creating a shared vision and single source of truth for the processes that fuel your business.
Journey Mapping Use Cases
The same customer journey map may benefit different departments in different ways. For instance:
Product: Find points of friction in task completion that can be improved
Support: Route issues to the right teams.
Customer Success: Improve onboarding. Reduce obstacles throughout the customer lifecycle. Benchmark your desired customer experience for customers against what they actually receive.
Sales: Understand how different buyer personas progress through your sales funnel. Discover new opportunities to connect and engage with prospects. Assess if the transitions from marketing to sales to customer success are effective.
Marketers: Identify gaps in content, understand where decisions are being made.
Analytics: Generate hypotheses about what data is reflecting.
Finance: Determine the "cost to serve" at key touchpoints to identify possible cost reductions.
Employee Journey Mapping
The challenges of acquisition, engagement and retention don't just apply to customers. Organizations face similar challenges with employees company-wide, as the way we work changes. The pandemic added a new perspective on remote work, collaboration, organizational culture and work-life balance.
An increasing number of organizations are taking a cue from CX by using journey mapping to improve the employee experience. Those that do invest in employee experience are more productive, valuable, attractive, innovative, and profitable. Research by Jacob Morgan, author of The Employee Experience Advantage, found that "organizations that invested most heavily in employee experience were included 11.5 times as often in Glassdoor's Best Places to Work, listed 4.4 times as often in LinkedIn's list of North America's Most In-Demand Employers, 28 times more often listed among Fast Company's Most Innovative Companies, and made it 2.1 times as often on the Forbes list of the World's Most Innovative Companies."
The approach to mapping remains the same; start with the problem you're trying to solve. For many organizations, the problems to tackle with journey mapping could include how to:
Ensure new hires are successful in their first 30 days;
Attract a larger number of qualified candidates for Engineering roles;
Provide more consistent and frequent performance feedback;
Assess the process for internal communications; or
Identify when and where learning and development opportunities should be introduced.
Once you identify the problem, the steps to mapping the journey remain the same, but with the added benefit of co-creating solutions with employees. This not only helps model the employee experience more accurately, but ensures employees feel a sense of ownership and investment in the way their individual jobs function, and how they fit into the larger goals of the organization.
Making sure employees feel heard will lead to a more engaged workforce, and since it's interactions with employees that can often drive customers' buying decisions, this is a triple win, offering benefits for employees, customers, and a company's bottom line.
How To Get Started With Customer Journey Mapping
Our Ultimate Guide to Customer Journey Mapping illustrates each step of mapping customer journeys, and includes key questions to answer along the way. You can also download our handy visual guide to the 7 steps to start customer journey mapping, which covers the steps below.
1) Have a clearly established scope for the project.
The most vital thing is to define "who, what, where, and when." The map will help you show "how and why."
Who — The persona or customer. Create one journey map per persona / point of view.
What — The goal, action, or task you want to improve. You may wish to prioritize journeys that happen most often or have the most known issues.
Where — The channel(s) the journey happens in.
When — The time period in the customer journey when the customer will achieve the outcome. What is the before, during and after of the journey you are assessing?
2) Conduct internal research.
Gather existing data around the journey. This could include website data, call center logs, social media posts, or operational data.
3) Map the 'current state' customer journey.
Identify the teams that interact with the customer persona and experience you are mapping.
4) Develop and document your hypothesis about the journey.
What's working well? Where do things break down? Identifying "moments of truth" — the make-or-break touchpoints in a customer's journey — is a key component of journey mapping. It takes "twelve positive moments of truth to counter one failed moment," according to service management researcher Richard Normann in his book Moments of Truth.
5) Conduct customer research.
Ask research participants to detail the steps they take to complete the task you've decided to map in their own words. Keep questions open ended. Listen for "doing, feeling, thinking" verbs as the participant explains the steps. The language customers use matters, and may offer a clue into how they feel about a part of the journey.
6) Review the journey.
Analyze the gaps between the current strategy and expectations. Use the participant's responses to validate or disprove your team's observations.
7) Improve the journey.
Put change into action by fixing what you've identified as a problem. Communicate the change to the teams that are involved in the journey and measure the behaviors that result from the change.
---
Now you know the right steps, check out how you can put them into action with our video demonstration of SAP Signavio Journey Modeler.
---
Why Journey Maps Fail…And What To Do About It
User experience consultancy Nielsen Norman Group surveyed user experience professionals on when journey maps fail. The top points of failure include:
When there is no focus (36%)
When the map is not based in reality (25%)
When the map is not shared or used (21%)
When there is no trust or buy-in (11%)
Each of these points of failure is avoidable. Here's some tips on combating the top 4 reasons journey maps fail.
When journey maps lack focus, go back to the best practice of limiting the scope of your journey to one persona, one goal, one channel.
When journey maps are criticized because they are "not based in reality," it is often because they draw from assumptions vs. customer research. Customer interviews and validation are a key part of the process.
When journey maps are not shared or used, identify the why.

Is it because teams don't know about your project? Engage with teams that touch your project early and often. Present your work in a company all hands so the broader organization can visualize and understand the customer experience.
Is it because it is hard to find the file or the information is out of date? Make your map accessible to all in your organization. Integrate the customer journey into your process landscape documentation.
Is it because teams haven't been included throughout the process? Pain points aren't just experienced by customers. Casting a wide net for internal feedback can help improve the detail and effectiveness of a journey map.

When there's no trust or buy-in, it could be because journey mapping was conducted by one team to surface weaknesses in a process. By having top-down support for your program, and including the teams that intersect with the journey you are mapping, you are more likely to gain trust and buy-in for the process.
How To Successfully Put Journey Maps Into Action
Eight years into the age of the customer, just 15% of enterprises are customer-obsessed. Our research finds that executives agree with the idea…they just struggle to put it into practice.

Forrester analyst Shar VanBoskirk
To deliver the competitive advantage that executive teams seek, CX teams need to reiterate "why" the customer is critical to the organization's success — often over and over again. Here are some ways to get started.
Connect customer needs back to business results.
Add goals and metrics to your journey map to show how CX initiatives result in concrete outcomes.
Identify and engage teams that touch the journey you are mapping, and make sure to include customer interviews and data in your analysis.
Partner with Finance teams who may use process mapping to identify inefficiencies to add a customer lens to improvements.
Frequently share insights and results outside of your team to help employees identify with the customer and have a voice in the customer experience.
Adjust your journey map to optimize customer experience.
Discuss perception gaps. Train customer facing teams on the moments of truth and pain points that you've discovered. Make sure that your map includes accountability and metrics so that you can show results, both as part of your stakeholder management and to drive further improvements.
Determine future state processes.
Think of journey mapping as an ongoing improvement program vs. a one-off project. It helps to have a high-level executive sponsor and an ongoing program owner accountable for change. Plan improvements, and use customer insights from your interviews to drive strategy. As your business changes and new products are introduced, re-test hypotheses and review processes.
Fixing the underlying operations that deliver the experience is where most customer experience efforts fail. The value journey mapping brings is helping organizations change by thinking and acting in a more customer-focused way.
---
Sometimes just doing it is the best way to learn. Check out our hands-on tutorial on how to create customer journey maps.
---
How to Measure Customer Journey Mapping Efforts
Maps are a means to an end in getting to where you want to be. No map is 100% accurate, but it can help teams make more informed and data-driven decisions about where experiences can be improved. The value of journey mapping is in the actions teams take once the map has been created.
A Nielsen Norman Group study found that more than 80% of user experience designers don't use metrics in their journey maps, making it difficult to then prove the value of UX improvements via data analytics.
Jennifer Clinehens of UXMagazine suggests breaking down measurement into three parts: the customer journey as a whole, the phases of the customer journey, and an individual touchpoint within the journey. Each element can then be measured with context appropriate metrics.
The Customer Journey as a Whole
Net Promoter Score (NPS), Customer Satisfaction (CSAT) and Customer Effort Score (CES) are three metrics to look at how effective the entire customer journey is. Clinehens assesses the pros and cons of each. Many teams and touchpoints impact NPS or CSAT, so consider more than just this metric to measure your efforts.
Phases of the Customer Journey
The phases of Awareness, Consideration, Purchase, Retention, and Advocacy each have business metrics associated with them. Are more customers that started the purchase process completing a purchase after journey map improvements? Are web or mobile stats reflecting behavioral change on the areas of the journey the team has optimized?
Journey Touchpoints
Does each touchpoint reduce friction or make the specific action more positive for the customer? Measurement may include decreasing wait or task time and generating positive feedback from surveys or stakeholder interviews.
In short, customer experience metrics are just one part of a broader system of action, pointing the way towards the steps you'll take to improve the way customers interact with your business.
Examples of Customer Journey Maps
Customer journey maps can be elaborate or simple, as long as they help visualize the customer experience. Each customer journey map example below shows a different layout and approach.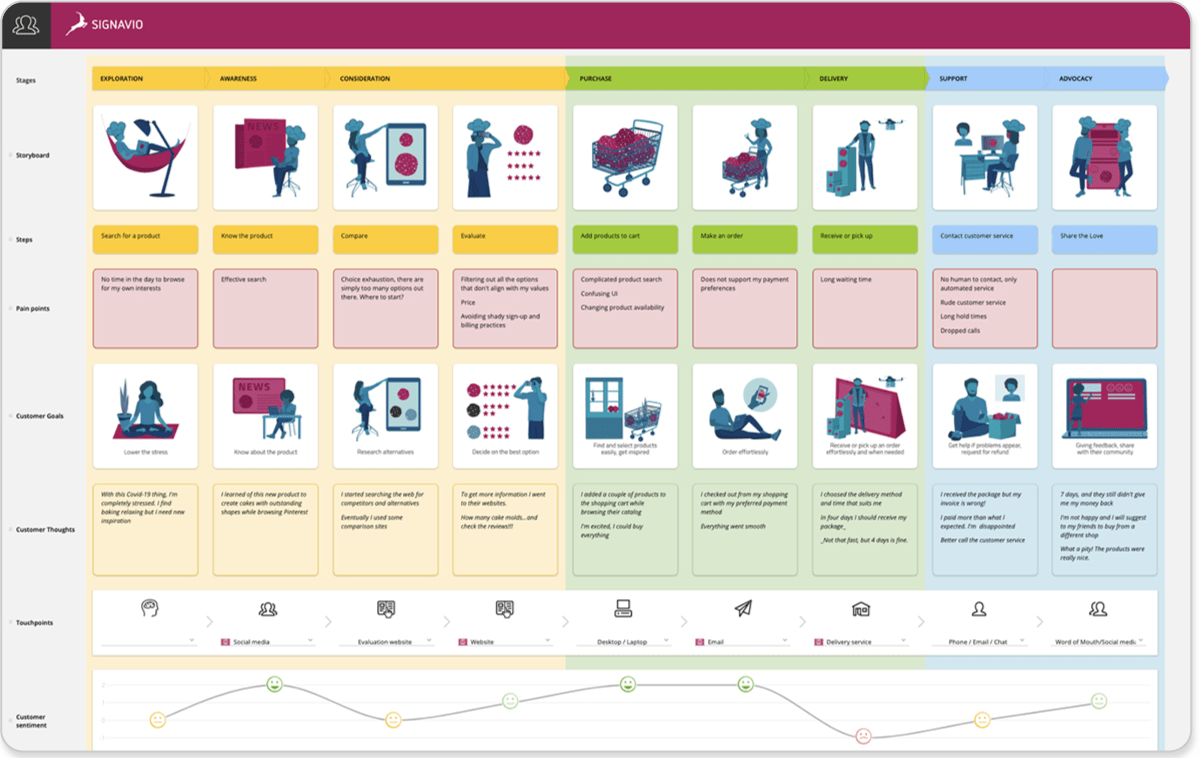 The image above shows a sample product search journey using Signavio Customer Journey Modeler. The example incorporates stages (representing customer stages or stages for other journey types), a storyboard, pain point, goals, customer verbatims, sentiment and touch points.
The Smithsonian has some of the most-visited museums in the world, and has mapped out its visitors' journey across multiple channels and touch points of engagement.
The image below shows a healthcare insurance purchase journey map from, which incorporates a persona, phases, goals and touch points.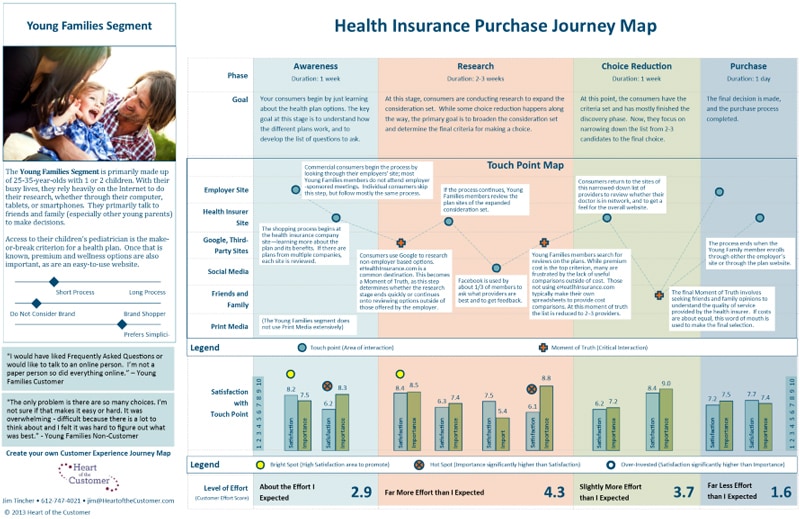 Resources for Customer Journey Mapping
Signavio has a number of blog posts and webcasts that offer a deeper dive into journey mapping.
Blog posts, whitepapers and guides
On-demand webcasts
"Introducing Next Generation CJM by Signavio (EMEA)"
Still want more customer journey mapping resources?
Here are some additional resources related to journey mapping and customer experience.
UX, CX and EX thought leadership
CustomerThink: online community for customer-centered business management practices.
Jakob Nielsen and Don Norman: pioneers of UX and founders of the Nielsen Norman Group.
UX Magazine: online news magazine focused on experience design.
Service Design Network: non-profit institution dedicated to expertise in service design.
Certification
Next steps for your journey
First, make sure you check out our Ultimate Guide to Customer Journey Mapping.
Then, request a demo of how customer journey mapping can support your business's operational excellence or business transformation initiative.
Or, if you're ready to get started with customer journey modeling today, register for a free 30-day trial of SAP Signavio Process Manager.
Published on: April 23rd 2021 - Last modified: October 13th, 2022