While our customer journey mapping overview describes the purpose of customer journey maps in greater detail, this blog post walks you through a hands-on tutorial on how to create customer journey maps and how to integrate them into your process landscape.
'Mapping' vs. 'Modeling'
You'll see the terms customer journey 'mapping' and 'map' used throughout this post, in order to ensure consistency. In fact, the terms customer journey 'map' and 'model' are often used interchangeably. However, there is a difference!
The difference between an isometric customer journey map and a tabular customer journey model is like the difference between a hand-drawn map and a modern GPS app: they both get you to where you're going but one offers better functionality, including giving the user much more information. A tabular customer journey model offers a richer picture of where customers are along their journey, in particular by connecting customer experience data with process mining analysis.
If you are just beginning your work on investigating how customers interact with your organization's internal processes, this distinction will be largely academic. As you progress along the road to building exceptional customer experiences, however, the more sophisticated and data-rich customer journey models will become increasingly important.
Five steps towards customer experience-driven process management
Let's assume we are a retail bank who provides loans to private customers. In rating portals, we typically score lower than our competition and our market share is constantly decreasing. Improving the customer experience can help us to regain our lost market leader position. Consequently, we want to map the loan application customer journey, optimize it, and reengineer our processes accordingly. To kick off our customer experience improvement initiative, we follow the following five-step approach.
1. A customer journey map starts with the customer: define a persona
Before we can start modeling the customer journey, we need to understand our customers. Personas are a widely adopted concept for breaking down quantitative customer data into customer archetypes that are easier to communicate and relate to. They also help considering 'soft' aspects like emotions and cultural preferences, which is imperative to avoid the misconception that humans always act rationally and purely according to their own economic interests. Because the characteristics of personas define their customer journeys, each customer journey map should have exactly one persona. This persona should represent a relevant customer segment, for example a group of customers your organization has problems retaining, or a new target group.
In SAP Signavio Process Manager, you can add the persona as a graphical element to your customer journey map and highlight key ideas, goals and demands as post-it style banners.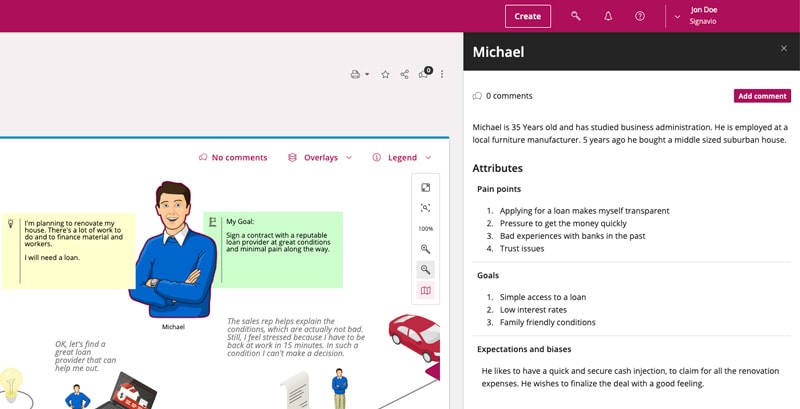 Hint: We recommend creating personas as dictionary items to facilitate re-use.
2. Map the 'current state' customer journey
Now, as we know who our customers are and what they want, we start mapping out the customer journey. Each customer journey is a sequence of the core elements steps, touchpoints and moments of truth.
Steps are connected via simple lines and show the sequence of events at a high level. At each step, the customer interacts with your product or service, makes a decision, or encounters a challenge. Thereby, they are guided by their goals, fears, and emotions. These persona properties influence the customer experience and can be reinforced or smoothened by the quality of your product or service.
Touchpoints represent steps where your customer comes into direct contact with your brand. Each touchpoint relates to at least one of your business processes and roles or IT systems.
Moments of truth are key decision points that can make or break your business' chance for succeeding with the customer. They are either barriers (requiring customer empowerment) or signposts (requiring a customer decision).
You can find an overview of all customer journey map elements available in SAP Signavio Process Manager in our CJM user guide. For a conceptual overview on customer journey maps, read our whitepaper What is a Customer Journey Map and Why Do You Need One?
In our example scenario, the persona is a busy digital native, who is irritated that our business doesn't go the extra mile to make his path to a home loan as smooth as possible. An in-person appointment is necessary even to simply figure out the exact loan conditions. If we're the ones who want his money (in the form of interest rates), why do we make it so hard for him to consume our services?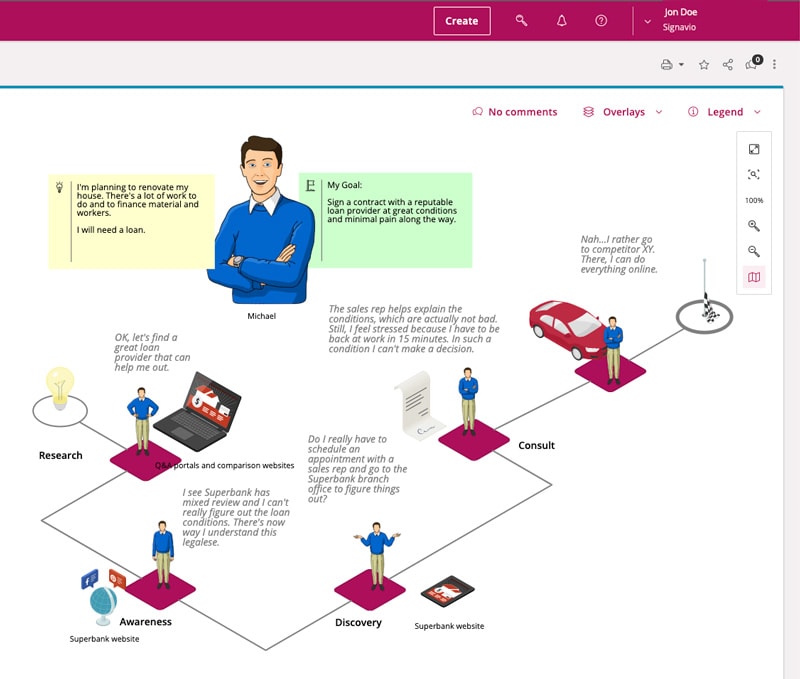 3. Integrate the customer journey into your process landscape documentation
Understanding the relation between customer experience and our organization's operations requires documenting how the customer journey relates to our business processes. That's why we integrate the newly created customer journey map into our process landscape. For each touchpoint, we create a reference to the involved business process and the human role or IT system that is the customer interface. The goal is to model all touchpoints explicitly, so we can later see how changing the customer journey affects our business process landscape.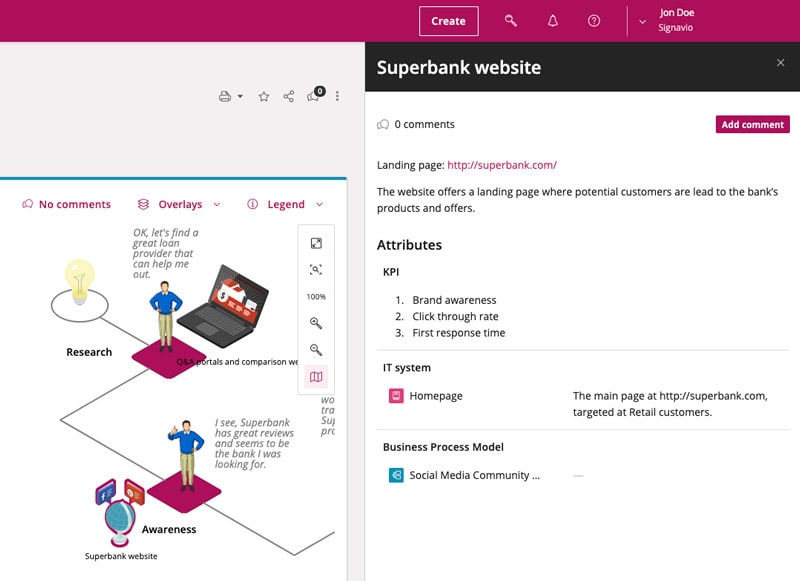 The references between customer journey map and process landscape also help on the operational level. When a caseworker - for example a sales representative - reads the business process documentation he or she has access to an overview of relevant customer journey maps, which facilitate a better understanding of customer motivation and emotions.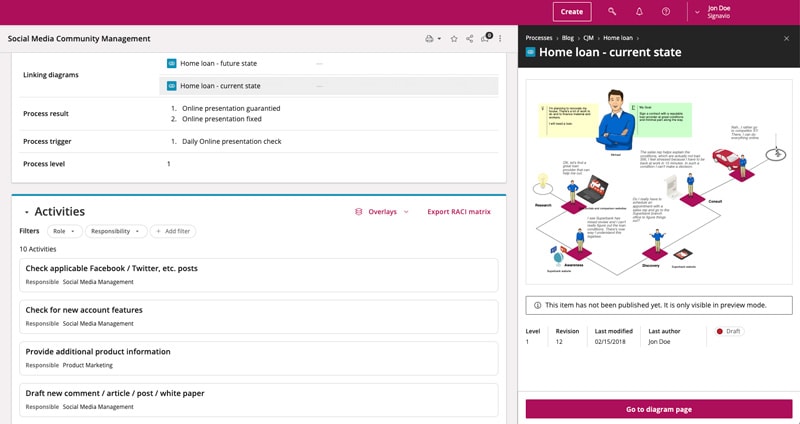 4. Adjust customer journey map to optimize customer experience
Our current state customer map clearly identifies weaknesses in the way customers experience our loan application process offers. In our example scenario, it is clear our service no longer lives up to our customers' expectations. This conclusion informs our improvement initiative. Consequently, we remodel the customer journey map considering the possibilities the digital world offers.
When creating a future state customer journey map, we recommend following these two steps:
Start with the ideal customer journey. Disregard internal stakeholders and try to get feedback from actual consumers instead.
Adjust the customer journey map to fulfill necessary conditions (like laws and regulations) and to allow for organizational limitations you can't possibly change. Doing so allows you to minimize the compromises you need to make in terms of customer experience.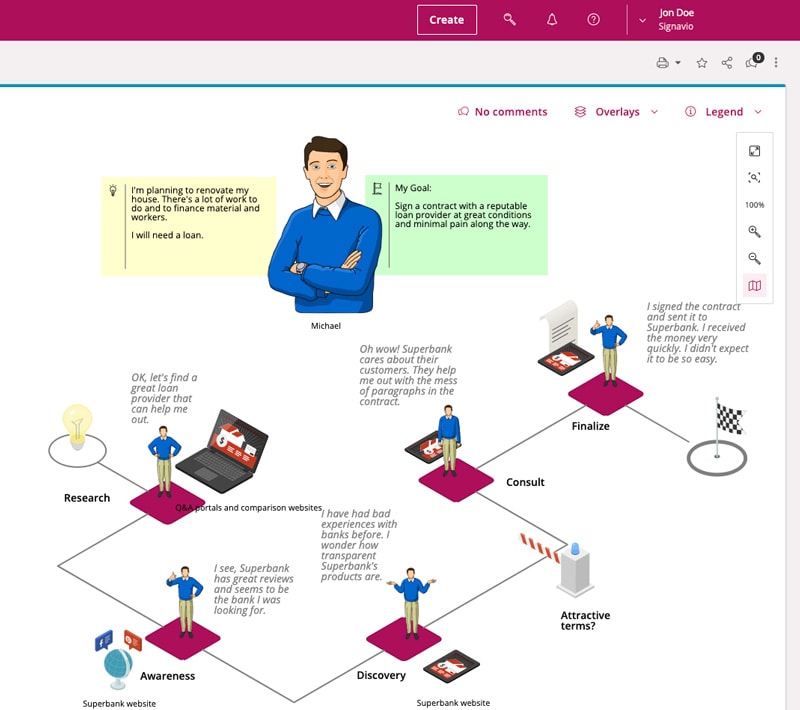 5. Derive future state processes
In our future state customer journey map, we again identify touchpoints with our business process landscape. We can compare these touchpoints to the ones we identified in our current state customer journey. From the result of the comparison, we can then derive a set of action items that form the basis of our future state process landscape. The scope of the required business process re-engineering strongly depends on the use case. In our example, a major digital transformation initiative is necessary to move towards the aspired future state customer journey.
Conclusion: Customer experience-driven process management
Customer journey maps provide you with the customer's perspective on your business process landscape. By creating a customer journey map of your products and service and optimizing the map's customer experience, you create the basis for optimizing your organization towards what matters most: providing the best possible customer experience.
Get started with customer journey modeling today by registering for a 30-day free trial of SAP Signavio Process Manager.
Published on: February 8th 2018 - Last modified: October 14th, 2022