This article summarises the recent articles about the next steps for applying process models that you create using, for example, SAP Signavio Process Manager.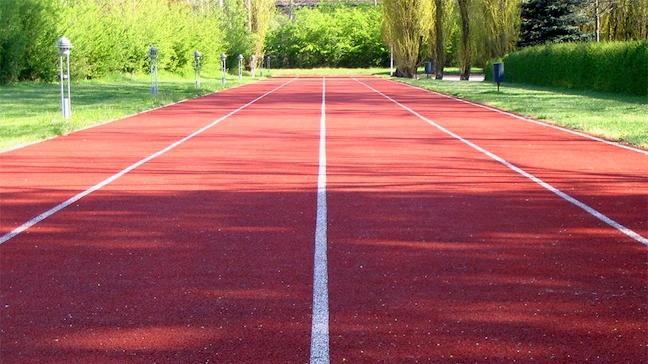 I've documented my processes - what's next?
Now that you've documented your processes in a process model, there are several next steps, all of which are about getting some benefit from the time you have invested in the model. These benefits come from getting things done by applying process models.
Getting things done by applying process models
The next steps are an iterative approach to discovering the best approach to applying process models by performing experiments and learning what works, instead of committing to one plan from the start and being stuck with it.
Pick a process to apply first - do one thing at a time
Choose Signavio Workflow to start with - start simple
Build the process in Signavio Workflow's process builder - start small
Run the process in Signavio Workflow - learn from experiments
Iterate the process model - use what you learn and build things up
Evaluate the results - choose the best way to automate the process
This is agile BPM, which has a lot in common with agile software development.
Pick a process to apply first
Before you start, you need to choose what to automate. To figure out how to choose which process to automate first, look for a business process that has a good balance between simplicity and complexity, relevance to your organisation and broad understanding, and results with enough business to make the process important enough to automate.
Small organisations should first consider core business processes, while large organisations will find processes that have a similar scope in the support processes of a single department, such as HR. In fact, hiring staff and onboarding new hires are good candidates for many organisations.
Choose Signavio Workflow to start with
Four kinds of business process software describes four different software categories, with varying cost and complexity.
Signavio Workflow is the best choice to start with, even if you plan to use something more complex later on, because simplified cloud workflow makes it possible to get started quickly, while still getting the benefits of a sophisticated workflow platform. It would take a lot more imagination to successfully simulate BPM using spreadsheets and email.
Build the process in Signavio Workflow's process builder
Once you've chosen one of your process models and signed up for an Signavio Workflow account (which only takes a minute), you're ready to use Signavio Workflow's process builder to automate the process.
Building the process is an opportunity to collaborate with colleagues: shared access to the process model in a web browser makes it easy to get input from other people in your organisation.
Run the process in Signavio Workflow
The next step is to run your process in Signavio Workflow to see if it works the way you expect. The change of perspective this gives you matters, because at runtime the process doesn't look the same as the model (tweet by @Procesje):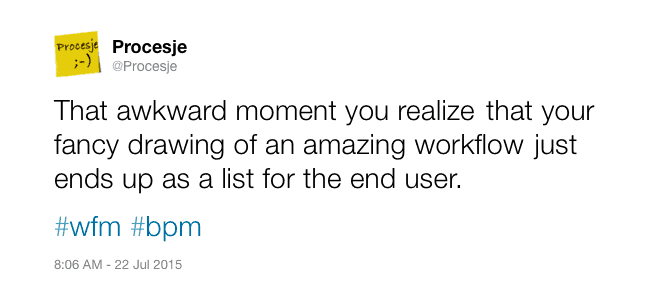 When your two-dimensional process model becomes a one-dimensional sequence of tasks, you can see problems that weren't evident before. This is a good thing, because this is how your improve your process more quickly than by staring at the model.
Iterate the process model
At first running the process is really testing the process model. The results of this testing are the inspiration for incrementally improving the model, both to fix problems and flesh out details. This is why it is essential to be using a tool that supports process versions, and the ability to roll back to earlier versions when changes don't work out as planned.
Signavio Workflow makes it easier to edit a process model and develop a process incrementally, so you only need the essential features of the process such as tasks and decisions to start with. You can add details such as custom notifications, access control and automatic reminders later on.
Evaluate the results
Five results of executing processes in Signavio Workflow lists some scenarios that might be the result of the steps so far when applying process models: from deciding to continue developing a more complicated solution to concluding that your don't need software at all. At this point, you are well on the way to realising the benefits of workflow management.
This blog post is part of the Workflow management for beginners white paper.
Photo: Karl-Ludwig Poggemann / CC BY 2.0
Published on: July 29th 2015 - Last modified: March 21st, 2022