Management approvals are a common feature of many workflows, and should be straightforward to set-up. This screencast shows you how you can create a new approval process in one minute and then try it out, and edit the process again to make improvements.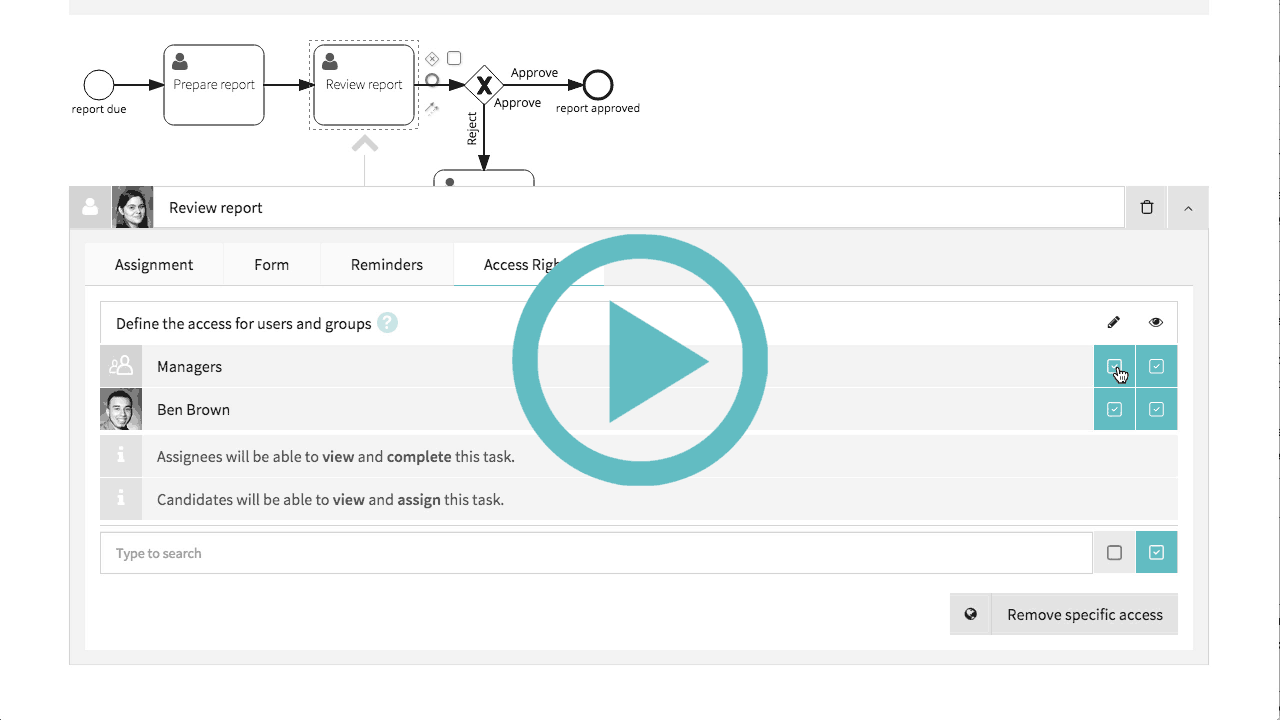 One-minute approval process screencast (YouTube) - 2m 25s
Transcript
In this screencast, I'm going to show you an end-to-end example of creating a process from scratch, running the process, and then making a change to improve the process for future cases.
Creating an approval process (0:10)
To start, create a new process.
This is going to be a short process where one person prepares some kind of report, and someone else reviews the report.
Use the process editor to create the process.
Add a start event.
Add a user task for preparing the report.
Add a user task for the approval step.
Add an exclusive gateway for the approval decision.
Add an end task for when the report is approved.
Add a user task for when the report is rejected, to make corrections.
Add a transition to re-review the corrected report.
Next configure the Review report user task.
Set the candidates to a group that you have defined in your organisation, such as Managers.
Choose a name for the assignee's role in this particular process, such as Reviewer.
Next configure the gateway, to name the gateway's outgoing transitions.
This configures the buttons that you will see on the Review report task form.
Publishing the process and trying it out (1:07)
Publish the process. You can now execute the published process.
To use the process to coordinate work on a report, start a new case.
The case name identifies which report you are working on.
Complete the first user task when you have prepared the report.
Open the review task to see the Approve and Reject options.
The report is probably fine, so just Approve it.
Now the approval workflow is complete; this case is closed.
Improving the process (1:36)
However, this process isn't safe, because you were able to complete your manager's task, and approve your own report.
This might be enough, because the case activity stream does record that you approved your own report, but you may prefer to prevent this possibility.
To do that, edit the process again.
Configure access rights on the Review report task.
Restrict edit permission to the Managers group. This means that only assignees will be able to complete Review report tasks.
Running the new version of the process (2:07)
Publish and start a case with the new version of the process.
Click through to the review step to see the change.
The report report task is assigned to your manager, Alice.
A message shows that you are not allowed to complete this task, and the Approve and Reject buttons are disabled.
I guess you'll have to let your manager take it from here.
Published on: April 13th 2015 - Last modified: November 13th, 2020