Why knowing how to do onboarding right is essential
HR managers have invested a lot of time in recruiting new employees, and of course they want to ensure new staff fully embrace the company. This starts with the onboarding process. By clearly defining and structuring this process, you'll create a positive start and strengthen the employee experience, which is the way your staff see your company.
This may sound logical in theory, but often turns out to be difficult in a company's hectic everyday life, as shown in the fact that only 12% of employees agree that their company knows how to do onboarding right (Gallup 2017). In addition, companies need an average of 42 days to fill a vacancy, and even longer for skilled technical positions, according to the Society for Human Resource Management's Human Capital Report.
In a time where skilled technical recruits are in short supply, that's a critical error. Companies losing suitable candidates after this amount of time give valuable resources away, as well as promising talent. That's why successful training and onboarding is a key to success for companies of all sizes and industries.
Onboarding challenges: Time pressure, collaboration across teams, and reliability
A new hire may become a challenge for both parties involved: New team members prepare for unknown faces, new tasks, and eventually for new IT systems they'll be using. A successful onboarding means they receive all information and materials required for their new day-to-day working life. To achieve this goal, HR managers collaborate closely with specialist departments, IT and office management. This is all about:
Working material
Keys
Software licences
Email addresses
Training
Labor law requirements
Internal contact persons
Communication
This turns out to be a complex process, including numerous intermediate steps across different teams. It's a matter of good collaboration and reliability to involve all the steps required—even under time pressure. How can this process be managed centrally, possibly avoiding common mistakes?
How Signavio welcomes new team members
Signavio's HR team wondered about that question in the past. They faced the (positive!) challenge of managing a large number of new hires in a growing company, aiming for a good start for each new employee. This meant they needed to know how to do onboarding right, right from the start.
The advantages of process automation
Nearly every company has developed onboarding checklists. But only a few are using software-based methods to automate repetitive processes and to simplify collaboration within a company. Yet, process automation holds numerous advantages when it comes to solving repetitive tasks, including:
Reduced manual effort
Centrally managing tasks across different teams
Avoiding common mistakes
Improving collaboration
Process transparency: All process participants know where they are within the process
Therefore, Signavio's HR team decided to manage their onboarding process centrally, automating partial steps of the process with the Signavio approach. This turned out to be a great success, and a perfect example of how to do onboarding right.
An organized onboarding shapes the company culture
It was clear that we would be using our own product. Process Governance is ideal for repetitive HR processes. (Helene Grimm, Head of HR at Signavio)
This idea led to an internal workflow for the HR team, managing all the individual steps of onboarding. This way, all process participants receive an automated email as soon as they're obliged to complete a certain task, for example preparing the new team member's desk or setting up their email address. They'll find the required timing, documents and information in the specific process, through the software's user interface. As soon as they've completed the task, the next process step is started and a new automatic email is sent.
Further, our HR team created a second workflow called 'Become a Signavian'. All new team members run through this workflow over their first few weeks, starting from the first day. As part of this workflow, they receive different organizational and communication tasks, that act as a basis for a chat with their new colleagues: They create their profile for the internal company chat, send an introductory email to their team, solve a little Signavio quiz, and get other tasks for a successful start.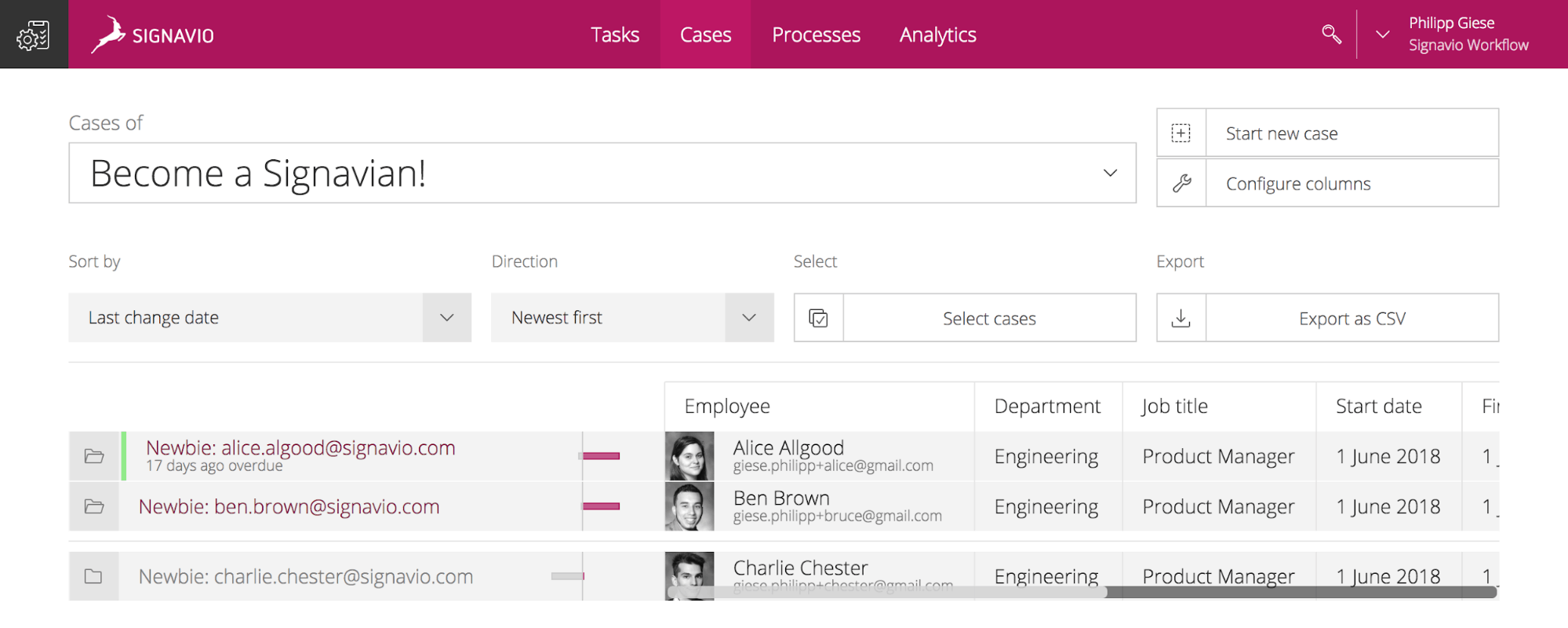 This onboarding workflow is about more than just simplifying daily processes. New hires get to know the software in a playful manner-- and their new team at the same time. Therefore, they'll build their own network early on. This supports the culture in a growing company and improves employee experience.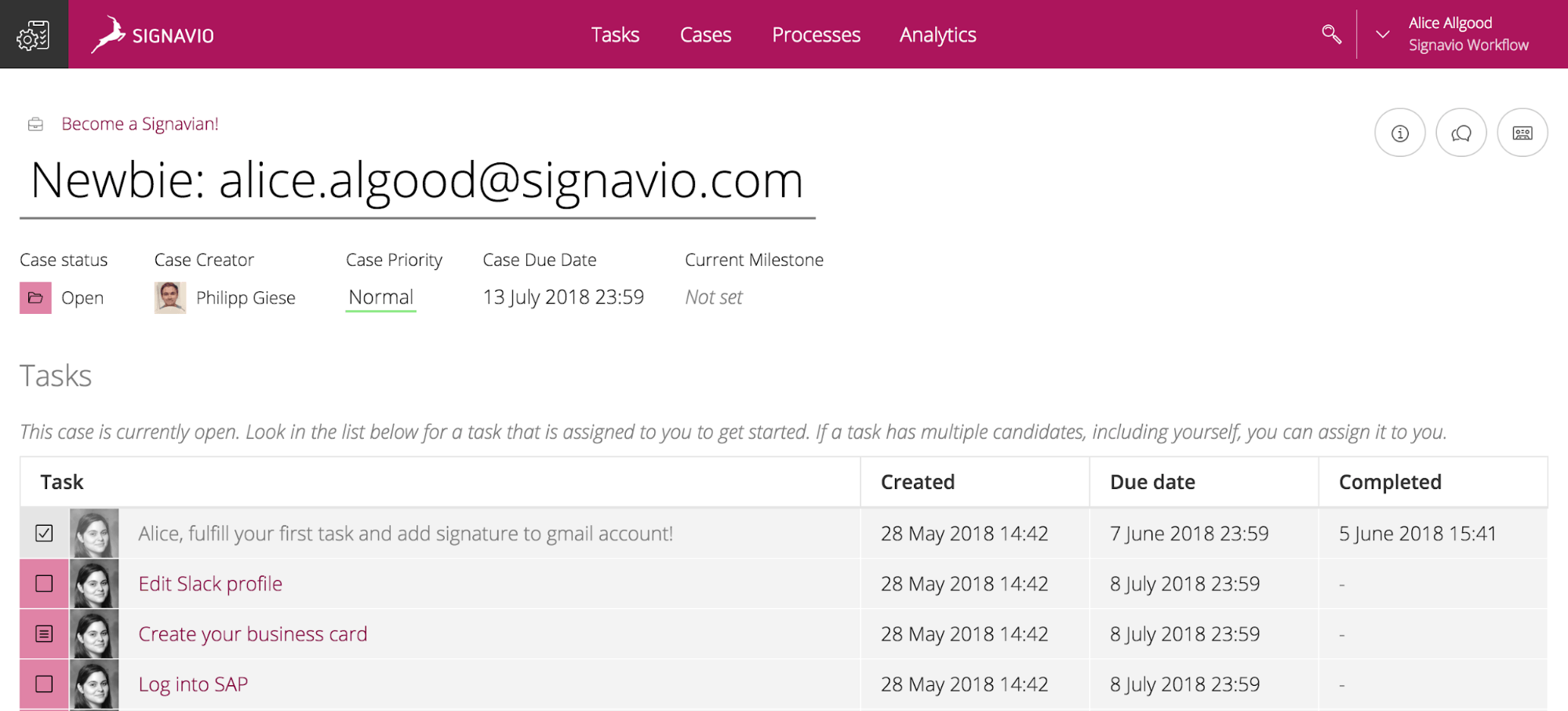 Outstanding onboarding workflow
Signavio's 'Become a Signavian' workflow is not only popular with our new team members. It was also recognized at the annual German congress for human resources management. This is Germany's biggest congress for strategic HR management. As part of this congress, an award for special personnel work was announced: #proud2bHR. Introducing the onboarding workflow 'Become a Signavian', Signavio was chosen from a range of more than 70 applications, and was on the shortlist together with two other finalists. Our HR team proudly presented this workflow during the congress.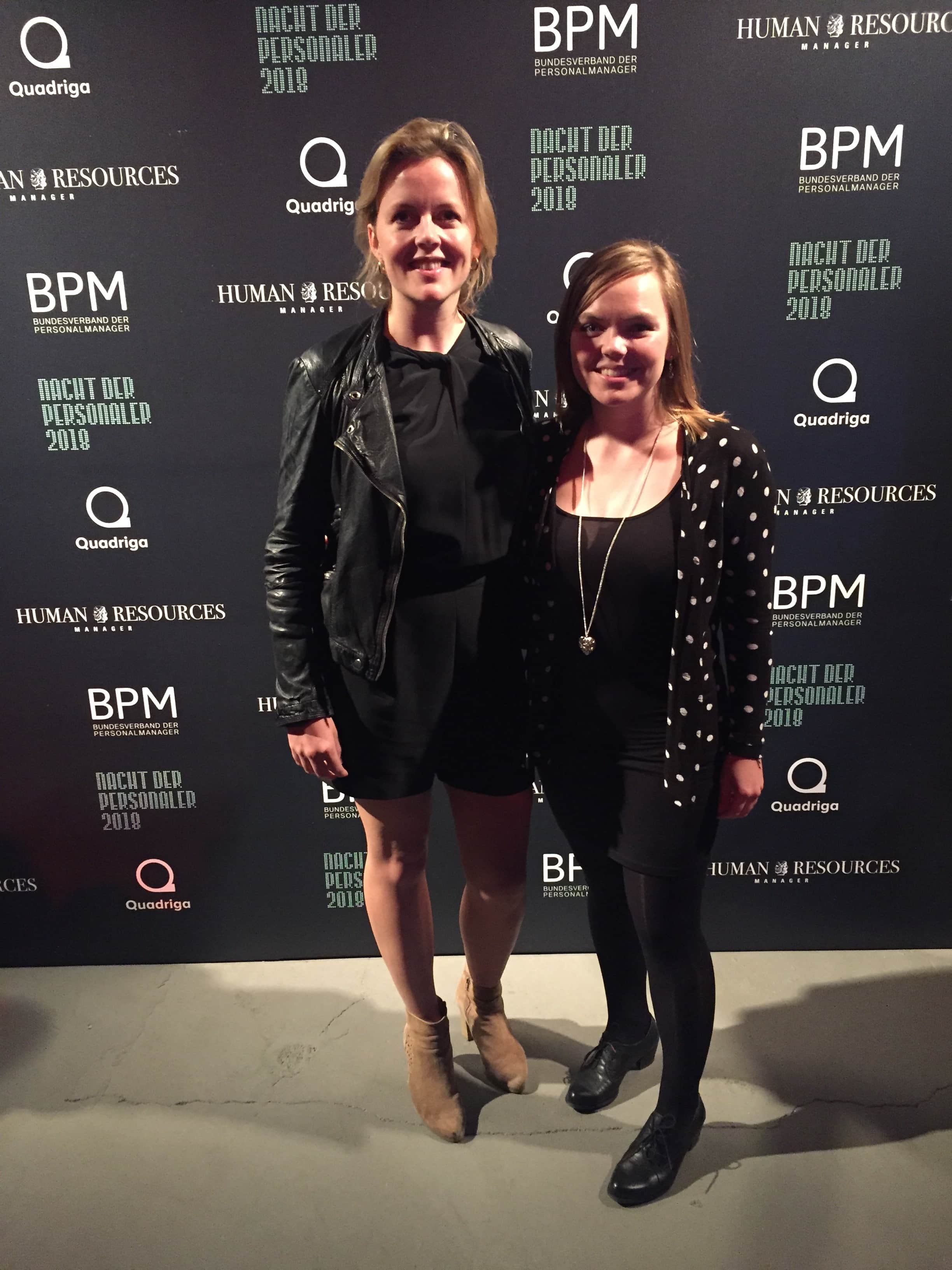 Signavio at the BPM congress: Helene Grimm (Head of HR) and Kathleen Hromek (Junior HR Business Partner)
We're very happy about the recognition. The workflow automates simple things, while at the same time it introduces our company culture in a playful manner and supports collaboration between employees. (Helene Grimm, Head of HR for Signavio)
This use case shows how a well-thought-out workflow helps HR managers to centrally manage onboarding as well as other repetitive tasks. Automated processes simplify managing workflows across different teams and help avoid common mistakes. This doesn't only provide new team members with a good start, it also supports communication within the whole company.
Want to learn more about how to do onboarding right, or how to simplify other processes in your organization? Just have a look at our Signavio Process Governance product brochure. Or, if you'd like to get started on your own, sign up for a free 30-day trial with Signavio today.
Published on: July 9th 2018 - Last modified: May 13th, 2022