Welcome to Signavio World 2019
An unmissable event for process aficionados, Signavio World revolved around digital transformation across organizations in dozens of industries. From the digitization of processes to process mining and RPA, the current challenges and opportunities faced by organizations of all shapes and sizes were investigated and considered through case studies, conferences and workshops.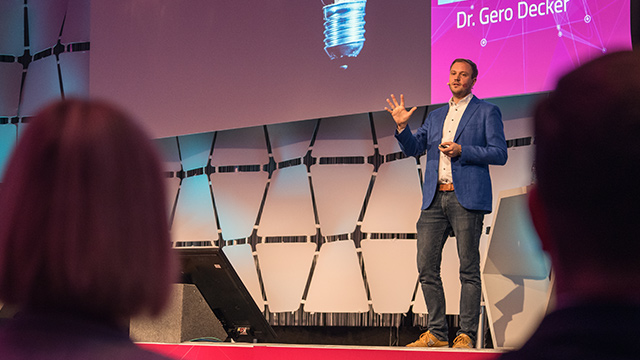 Signavio CEO Dr Gero Decker launches Signavio World 2019.
With 600 customers and supporters in attendance, coming from 19 countries around the globe, Signavio World showed that business leaders increasingly understand the importance of focusing their efforts on their organization's business processes. The benefits speak for themselves: boosting efficiency, building agility, ensuring compliance, increasing revenues, and smoother execution of daily tasks.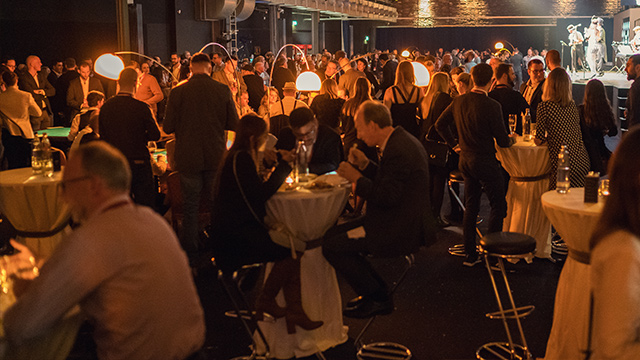 The crowd gathers.
Ongoing changes in all industries require quick adaptations, and the wise and effective use of digital technologies to achieve this. Business processes sit at the heart of any digital transformation initiative. As powerful levers of value creation, well-modeled, -documented, and -executed processes make it possible to empower all parts of your business, making operational and customer excellence achievable while also ensuring risk and compliance management.
A world of innovation
Every organization faces challenges, whether related to its history and legacy, its competitive and regulatory landscape, or just the ever-present requirement of responding to change.
Among the common problems encountered by organizations, we can include:
outdated and/or poorly documented processes that lead to waste of time and money;
non-optimized processes where errors are repeated in a loop;
a lack of visibility of the data that resides at the heart of their systems;
a lack of standardization of the operational model at the company level;
poor communication across company boundaries; and
missed opportunities to automate tasks.
Part of the objective of Signavio World was to allow thought leaders and process professionals to meet and exchange information on these challenges, as well as share best practices, create inter-business connections, and of course to learn, especially through the different real-life customer cases presented. After all, tackling the challenges of digital transformation is easier if you collaborate!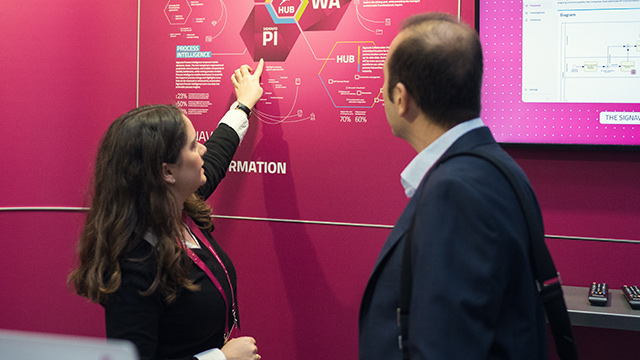 Collaboration in action.
Signavio World 2019: at the heart of digital transformation
The many speakers who came to present their case studies at Signavio World clearly understood the power of modern digital technologies to drive success in their various transformation initiatives.
From Coca-Cola European Partners and SAP, to Telstra, Swissport Group Service LLC, and Delivery Hero, among others, have all implemented process management initiatives at different levels and with different objectives. The overarching goal, however, was to ensure their competitiveness and maintain their place in the market, while keeping the future in focus.
Each of these organizations, despite operating in different industries and in different regions of the world, had a number of commonalities, which they shared with the assembled crowds:
A focus on operational excellence through simplified execution of even the most complex processes
A desire to put the customer at the heart of their business in order to enhance the customer experience
Aiming for a more agile, transparent and responsive infrastructure on a daily basis
Optimizing their business processes to facilitate their execution, and increase the company's profitability and efficiency
Implementing RPA initiatives to standardize repetitive work and improve speed on basic tasks
A commitment to discover the data hidden in their different IT systems, in order to identify potential areas for improvement
Throughout Signavio World, our speakers showed there is more than one way to establish and implement digital transformation. Any transformation initiative is based on the different objectives and priorities defined within an organization, as well as the current state of its process landscape. Just like building Rome, the digital transformation of a company is not done in a day. Rather, it is a regular and collective effort, requiring rigor, meaningful participation, and dedication, in order to take the big step towards organizational excellence—without stumbling.
And as a final treat, here's a quick video recap of Day 1:
From Signavio World to the SAP Signavio Process Transformation Suite
Would you like to follow in the footsteps of our speakers, and initiate or strengthen your own digital transformation? To do so, and discover the SAP Signavio Process Transformation Suite for yourself, simply sign up for a free 30-day trial. If you'd like to relive the presentations, or catch up on what you missed out on, stay tuned, as all our speakers' presentations will soon be available for download at www.signavio.com/world
Published on: November 28th 2019 - Last modified: October 13th, 2022