To stop our processes from overheating, we want to make sure they're running smoothly, with a minimum of wasted effort, and no excess energy. It's our number one mission to ensure that our processes are always efficient, no matter the weather, so let us share with you some of the ways we keep things fresh.
Mix up your problem-solving approach
We incorporate design thinking into our processes. This provides a more creative and non-linear way of approaching business transformation. Entering into this mindset means rebooting our organization's approach to problem-solving and transformation, and recalibrating how ideas are generated and developed. Want to know how we do it? Read more about how design thinking can unleash your innovation.
Efficiency and Effectiveness: the perfect summer cocktail
Mixing these two ingredients together is a sure fire way to keep things fresh! While they may sound similar, effectiveness means something entirely different to efficiency, but both are equally as important! An effective employee produces at a high level, while an efficient employee produces quickly and intelligently. By combining effectiveness and efficiency, a company produces better products faster and with fewer resources.
BPM Cookbook recipe: Watermelon salad with feta
You heard right: Delicious watermelon salad! Toss it up and slather it all over your processes for maximum refreshment. (Note: Please do not literally cover your organization's equipment or infrastructure with this tasty salad.) Follow the process model from our BPM Cookbook below for sure-fire employee freshness: A cool and crumbly commitment to all-round delight for your team! Check out the full BPM Cookbook for even more summer sizzlers and maximum organizational joy.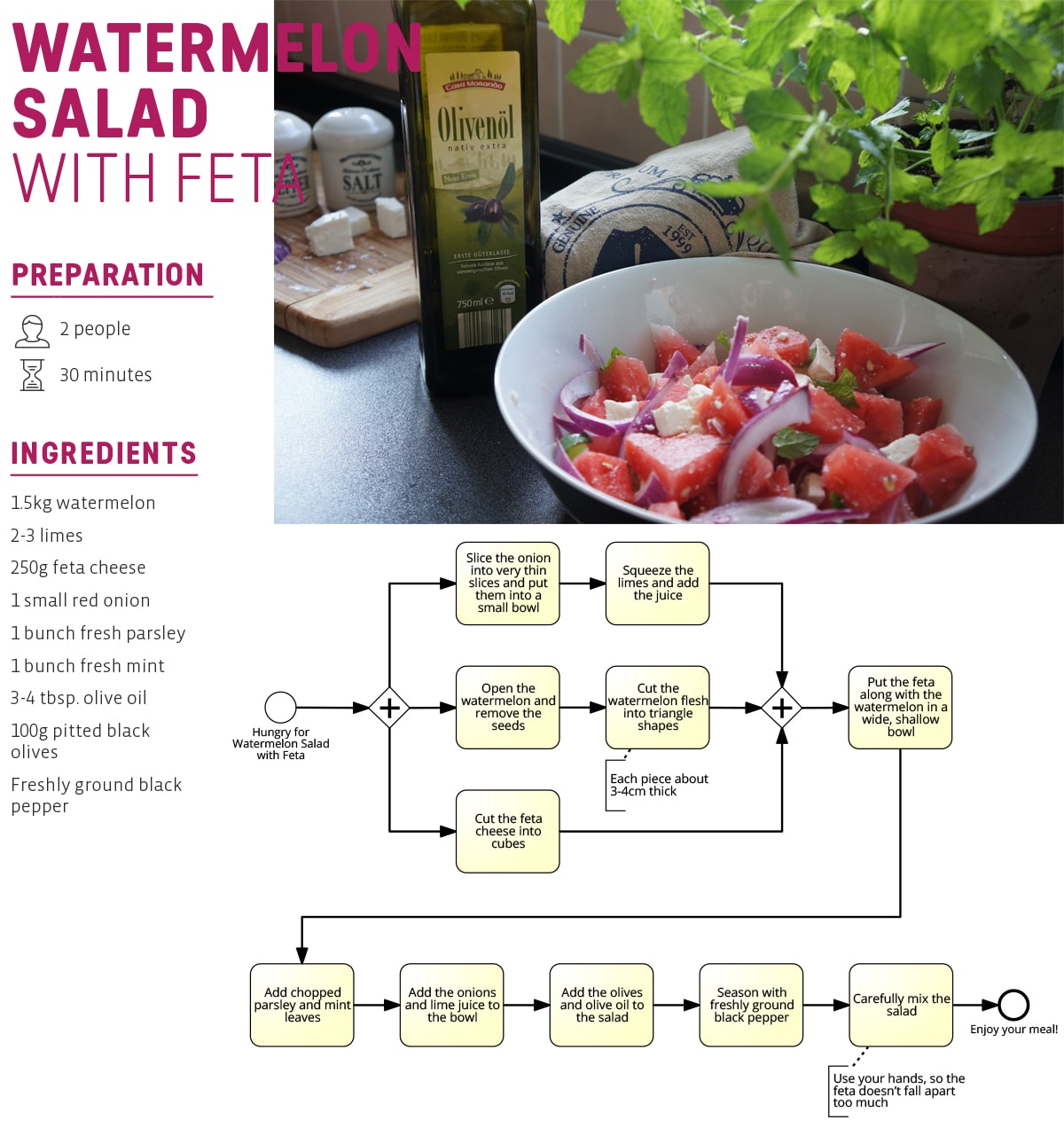 If you'd like more information on how you can refresh your own organization's processes with Signavio's award-winning Process Transformation Suite, you can contact us for a free demonstration. Or, if you're ready to take the plunge yourself, sign up for a free 30-day trial today.
Published on: August 6th 2018 - Last modified: November 13th, 2020