Creating waste?
As an agile organization, Signavio constantly renews its IT infrastructure and hardware, both to provide optimal support and services to customers, and to keep pace with the increasing digitalization across almost all business sectors, from retail to banking.
(Plus, it's always nice to be up-to-date with the latest technology—for one example, check out the recent release of the SAP Signavio Process Transformation Suite: Velocity Edition.)
However, even as Signavio staff unboxed their new laptops, the question arose: what could be done with all the "old" computers and other devices? The vast majority were still in perfectly good working order, and it would have been a waste just to throw them away, like a lot of companies do...
The next step in sustainability
The next step in sustainability at Signavio took the form of a partnership with AfB (Arbeit für Menschen mit Behinderung, usually translated as Work for People with Disabilities) in Berlin, a not-for-profit IT company that recycles computers.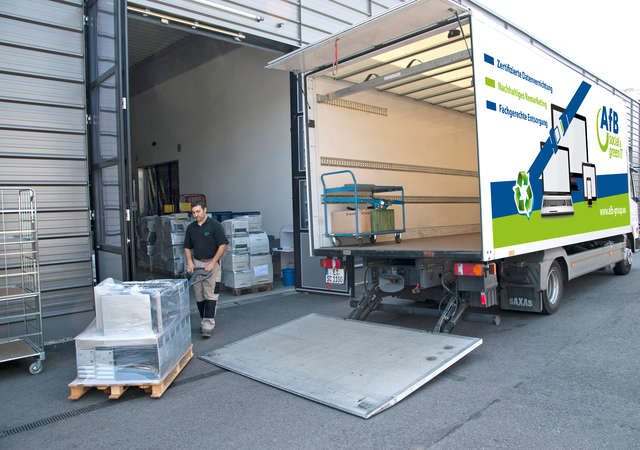 Pallets of notebooks and PCs are transported safely from Signavio's premises to the nearest AfB shop to be sorted out.
As most of the hardware still contains confidential data, AfB provides a certified data destruction service, ensuring everything remains in accordance with GDPR requirements. After this high-priority security step, suitable devices are reprocessed, loaded with new software, and sold throughout Europe—with warranty included, of course! Any machines that are defective or unsuitable for resale are dismantled and recycled to obtain spare parts, or be returned to the raw material market, meaning nothing is wasted.
Creating jobs
But that's not all! Nearly 48% of AfB's workforce is made up of people with disabilities, providing a valuable social good by supporting employment and independence for potentially vulnerable people in the community. Last year, AfB was able to resell more than 240,000 refurbished computers—that's more than 66% of what the organization received as donations.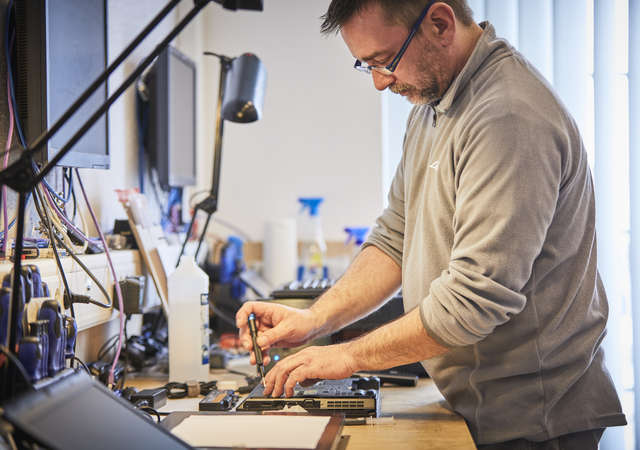 Recycling a donated laptop.
Now, Signavio is proud to work in partnership with AfB, taking the next step in sustainability together as part of this effort to save precious environmental resources, while at the same time creating meaningful employment for people with disabilities.
Creating value with Signavio
Updating your technology can be easy—updating the processes that underpin the way your business works can be trickier. If you'd like to refurbish your processes like AfB refurbishes laptops, sign up for your free 30-day trial with Signavio today.
Published on: October 29th 2019 - Last modified: October 29th, 2019