New feature for SolMan Connector
In our product release for Q3 2020, Signavio offered an improved version of our SAP Solution Manager 7.2 connector. Now, we've added increased functionality by enabling existing SolMan process steps to be reused.
Reuse process steps
Import "Process Step Library" into the Dictionary
Link various BPMN tasks to the same process step dictionary item
On process export the created/updated processes will link to existing process steps from the library, instead of creating new entries in the library

By importing the "Process Step Library" into their Dictionary and reusing linked process steps on export, users can drastically reduce the effort and time required to link business processes to technical documentation and test data.
Plus, because links to the original SolMan folder and original process step are shown for any imported process steps in the Dictionary, those imported steps can now be searched for by folder names. In short, it's a more efficient and business-friendly way of linking processes to executable transactions.
New look for Signavio Process Governance form fields
We've given the form field design in Signavio Process Governance a fresh look and feel, which users will notice in their task view and trigger forms.
Improved form fields
Not only does this make for a better user experience, it will harmonize the appearance of form fields across the entire Suite. (Our SAP Signavio Process Intelligence users will already be familiar with the new form field design.)
Along with a more consistent look, the new form fields allow for improved error indication, and make the task of dragging and dropping files clearer for users.
You can see the new form fields below: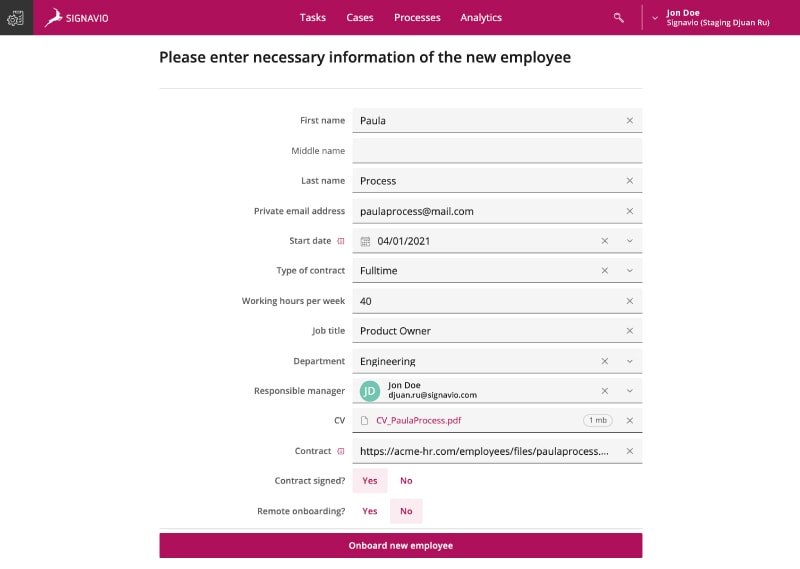 As ever, you can view a complete list of all product improvements and bug fixes by checking out the Signavio Release Notes.
Published on: February 4th 2021 - Last modified: February 4th, 2021