Process Mining takes all transactional data from a certain Process Domain, like 02C and P2P, directly from the ERP systems or any other system you want to connect too. Since every activity in a system has a time stamp, you can track exactly how you are managing your day-to-day activities and where you can improve.
Process Mining translate these time-stamps into a physical representation of the process flow and a report on the business performance during the recorded time. You are able to track lead times between activities and can see where your processes can be standardized more, to reduce overall lead-time to customers, reduce waste, improve efficiency, and ultimately save costs.
Process mining can save your business
Robotic process automation (RPA) provides a virtual workforce to automatize manual, repetitive and error prone tasks. However, successful process automation requires exact knowledge about the intended (and potential) benefits, effective training of the robots, and continuous monitoring of their performance. With this, benchmarking robots to ensure sustainable benefits.
Why attend?
New to Process mining? this is your chance to come and see what all the fuse is about and pick up some valuable insight along the way that you can take back to your office and action straight away
Thinking about implementing Process Mining? Well, now is the perfect time to make those valuable connections and acquire those key takeaways to make sure your journey gets off to the very best start.
Signavio at Process Mining
Join our presentation on the 16th of September at 11:am CEST. This session will be delivered by Lafras Moolman, Finance Process Improvement Lead at CRH and Olav van Haren, Sales Lead Benelux at Signavio.
Tune in and discover how CRH, an international group of diversified building materials business which manufacture and supply a wide range of products for the construction industry, we are able to analyse, for one of the operating companies, using real data-driven insights to identify and to built a series of improvement initiatives and build a compelling business case for it's Procure-to-Pay process by harnessing the power of Signavio's Process Intelligence.
CRH will discuss the project approach, key finding and ultimately the opportunities uncovered through process mining.
Connect with us at the event and register today for free! Stop by our booth to have all your answers questions by our Signavio experts.
Or if you can't wait, visit the Signavio Process Intelligence product page today, and if you like to get a group effort started so process mining can save your business right away, sign up for a free 30-day trial with Signavio.
Win a pair of Apple Airpod Pros
Visit the Signavio virtual booth on either 15th or 16th September during Process Mining Online 2020 and automatically be entered into the draw to win a pair of Apple AirPods Pro!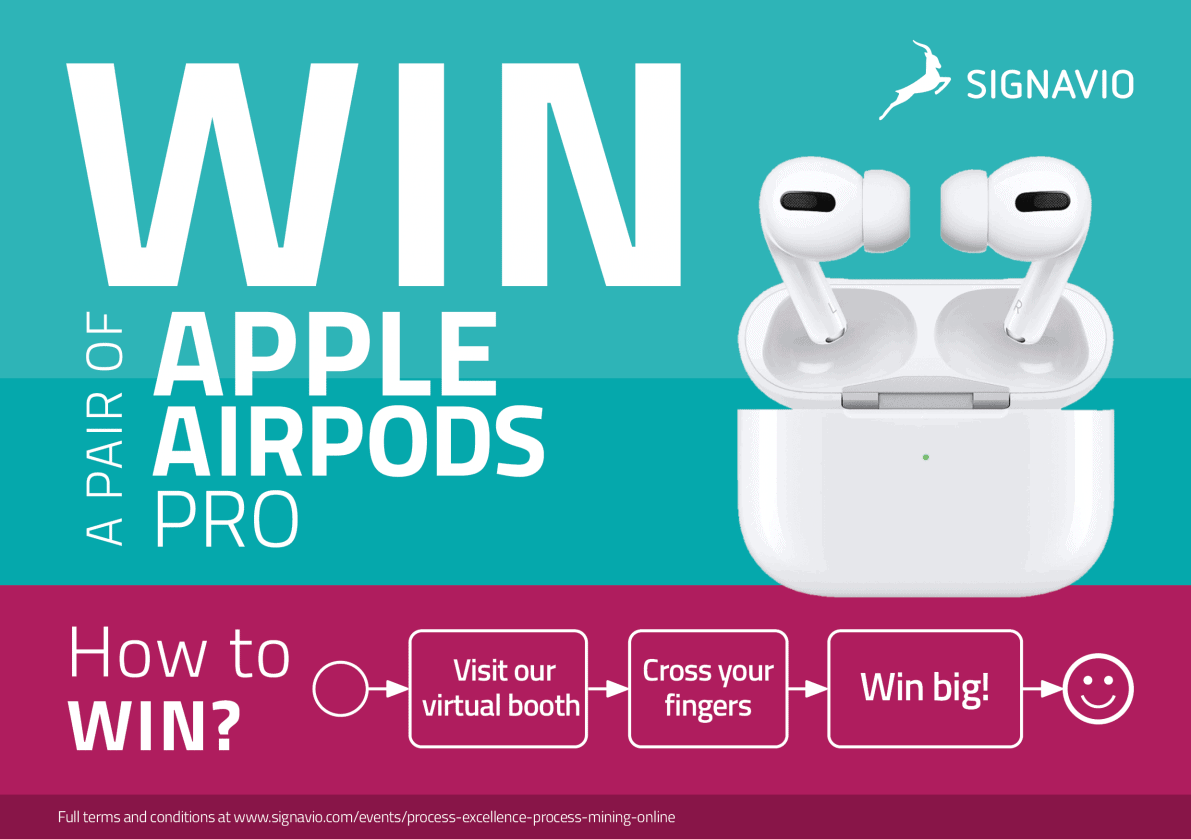 Please have a look to the Competition Terms & Conditions below!
ABOUT THE SPEAKERS
Lafras Moolman - Finance Process Improvement Lead at CRH - Europe Materials
Lafras has been leading finance process improvement for CRH Europe Materials since February 2019. He is a chartered accountant with 20 years of experience as CFO. He was responsible for establishing the LafargeHolcim European Shared Service Centre as well as the CRH Business Service Centre in Budapest.
---
Olav van Haren, Sales Lead Benelux, Signavio:
Olav leads the Benelux team out of the Signavio office in Amsterdam. He has 20 years of experience in the Software industry. He successfully built and led teams in companies of various sizes, such as IBM, Salesforce, Good Technology (acquired by BlackBerry) and Dtex Systems. Olav is passionate about leading teams in disruptive software companies and that's why he joined Signavio in February 2019.
---
Competition Terms & Conditions
If you agree to participate in Signavio's prize draft at Process Mining Online 2020, you agree to the following Terms and Conditions:
Contact and responsibility for Signavio's Prize Draft remain solely with Signavio GmbH, Kurfürstenstr. 111, 10787 Berlin, Germany HRB 121584 B Charlottenburg District Court ("Signavio").
Signavio's Prize Draw is open to people aged 18 or over, except Signavio's employees, partners, employees of other exhibiting companies at BluePrism World 2020 and competitors. By participating, you declare that you are legally authorized to participate in this competition and that there are no conflicting interests. Signavio has the right to disqualify entries which do not meet the criteria. Also, Signavio reserves the right to change conditions of participation and the conditions of the Prize Draft, if necessary. Signavio's Privacy Policy applies for the prize draft. Legal action is excluded with regard to the drawing of the winners and the possible assessment of the competition entries submitted; there is no recourse to legal action and no correspondence shall be entered into.
The entire prize draw includes one draws by all participants and will take place two weeks after the Process Mining Online 2020, on 29.09.202
The winner of the draw will get 1 x Apple AirPods Pro* in the value of 250 GBP The winner will be contacted using the contact information provided to Signavio. If no response of the winner is received within four (4) weeks after the contact, the winner's entitlement to the respective prize will lapse and an alternative winner will be drawn.
*AirPod is a trademark of Apple Inc., registered in the U.S. and other countries.