Blue Prism World on 23-24.06.2020
Blue Prism is unleashing the collaborative potential of humans and Digital Workers to transform the future of work, and this event will help you uncover tools and resources to achieve a successful digital transformation, exceed your goals, and drive the growth you need to remain competitive.
With more targeted sessions, including industry specific sessions, you will gain everything you need to implement and scale a market-leading Digital Workforce.
"Process Mining is only half the story. Are you ready for true RPA at scale?"
The potential benefits of RPA are well documented, but 90%+ of companies struggle to make these benefits a reality at any sense of scale. Just applying process mining techniques alone, with RPA in mind, will not deliver these benefits at scale either. To deliver on business transformation initiatives organisations need to embrace the methodology of mining, modelling, simulating and deploying when it comes to assessing as-is processes and optimising them for process automation in the future state.
Join Signavio SVP, Ian Pollard at Blue Prism World 2020 to learn how to take full advantage of your existing automation opportunities by making sure you assess these opportunities in a more strategic framework so you can then prioritise them based on business readiness for change combined with ROI.
Win a pair of Apple Airpod Pros & a charity donation worth £250
Visit the Signavio virtual booth on either 23rd or 24th June during Blue Prism World 2020 and automatically be entered into the draw to win a pair of Apple AirPods Pro worth £249!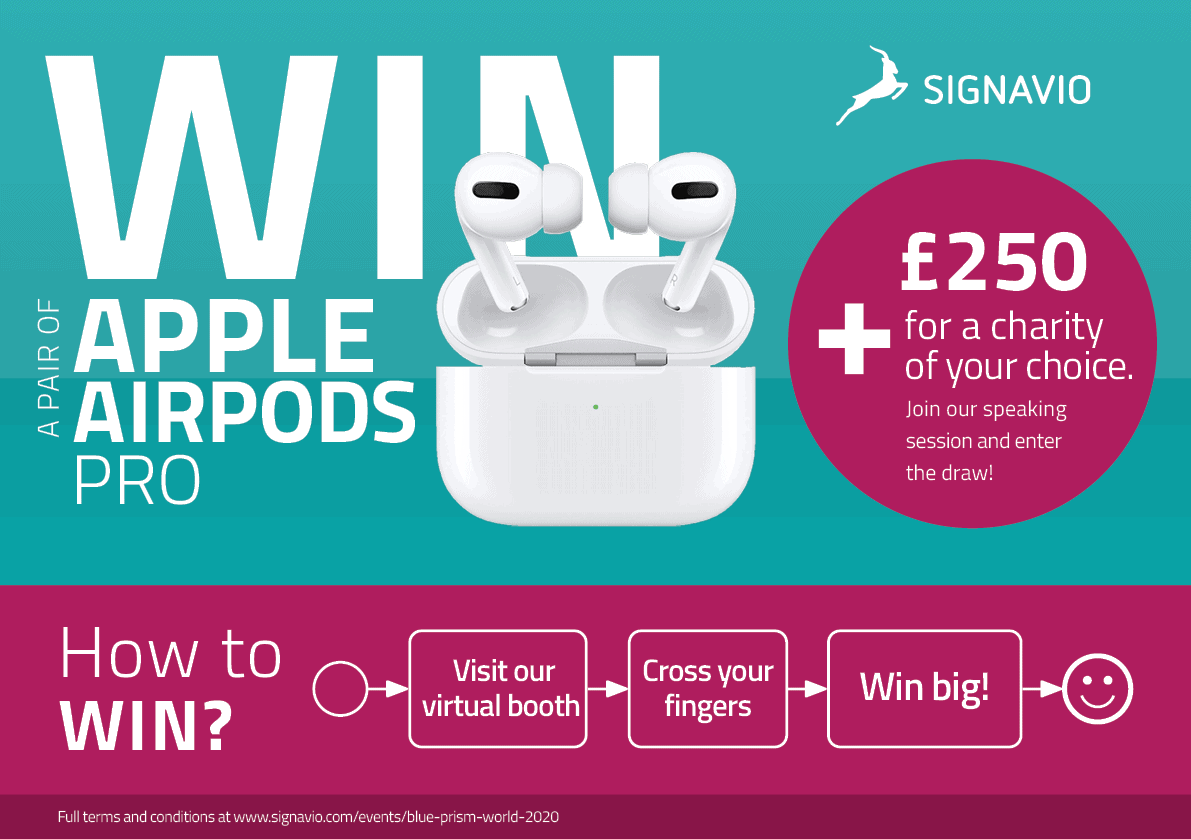 Please have a look to the Competition Terms & Conditions below!
On top of that, if you also speak with the Signavio team about RPA at scale or attend the sponsored session with our very own SVP EMEA, Ian Pollard, you will also be entered into the draw to win a £250 donation to a charity of your choice.
Join the Signavio team and register for free at Blue Prism World 2020
If you would like to talk to team Signavio at the event, please send an e-mail to: marketing.emea@signavio.com. We look forward to an exciting and immersive virtual experience with Blue Prism World 2020
Competition Terms & Conditions
If you agree to participate in Signavio's prize draft at Blue Prism World 2020, you agree to the following Terms and Conditions:
Contact and responsibility for Signavio's Prize Draft remain solely with Signavio GmbH, Kurfürstenstr. 111, 10787 Berlin, Germany HRB 121584 B Charlottenburg District Court ("Signavio").
Signavio's Prize Draw is open to people aged 18 or over, except Signavio's employees, partners, employees of other exhibiting companies at BluePrism World 2020 and competitors. By participating, you declare that you are legally authorized to participate in this competition and that there are no conflicting interests. Signavio has the right to disqualify entries which do ot meet the criteria. Also, Signavio reserves the right to change conditions of participation and the conditions of the Prize Draft, if necessary. Signavio's Privacy Policy applies for the prize draft. Legal action is excluded with regard to the drawing of the winners and the possible assessment of the competition entries submitted; there is no recourse to legal action and no correspondence shall be entered into.
The entire prize draw includes two draws by all participants and will take place two weeks after the Blue Prism World 2020, on 08.07.2020
Two prizes worth GBP 250 each will be raffled off. The winner of the first draw will get 1 x Apple AirPods Pro* in the value of 250 GBP and the winner of the second draw will get a one-time sponsorship in the value of 250 GBP for a third-party charity on behalf of the winner's company**. The winner(s) will be contacted using the contact information provided to Signavio. If no response of the winner(s) is received within four (4) weeks after the contact, the winner's entitlement to the respective prize will lapse and an alternative winner will be drawn.
*AirPod is a trademark of Apple Inc., registered in the U.S. and other countries.
** The charity, which receives a one-off payment of GBP 250 on behalf of the winner's company, can be chosen by the winner, but Signavio reserves the right to reject a charity for any reason. If the Winner and Signavio cannot find a charity after three suggestions from the Winner, Signavio is entitled to choose a charity on its own.