LeanIX and EAM
Effective enterprise architecture management (EAM), means employees within a business can build a clear understanding of the way their company's IT systems execute their specific work processes, as well as how they interact and relate to each other. Effective business process management (BPM) means employees within a business can build a clear understanding of the processes within their organization, including opportunities for optimization. Connecting BPM with EAM is a no-brainer!
LeanIX has partnered with Signavio to offer further insights into this rich area of business enhancement. Offering a Software-as-a-Service (SaaS) for EAM, LeanIX addresses the common predicament that information regarding IT landscapes is missing, outdated, or confusing to analyze, thus enabling organizations to make faster, data-driven decisions for their IT landscape.
Connecting BPM with EAM: A case study
The value of connecting BPM with EAM can be seen by taking one business as an example: logistics provider Hermes Europe GmbH. With 14,000 delivery drivers, 15,000 parcel shops, and 35,000 drop-off points across Europe, Hermes relies on up-to-the-minute information to keep track of deliveries, and make sure parcels, packages, and letters get to where they need to go.
To support this, Hermes also requires a near-instantaneous overview of both its IT infrastructure and business process landscape to pair its business services with appropriate levels of technological support. Such on-demand transparency is the essence of Hermes' digitization strategy—much of which in order to enable more personalized last-mile delivery options for customers.
Hermes achieves the comprehensive last-minute process information it needs to make effective resourcing decisions through a dedicated connection between two tools: the Signavio Process Transformation Suite, and LeanIX's enterprise architecture management software.
Thanks in great part to this integration, Hermes' IT department can efficiently cooperate with additional business units and teams by extending highly-specific views and reports. As well, the company's process modelers receive access to a company-wide data model that offers a single source of truth enhanced by the contributions of diverse stakeholders.
Connecting BPM with EAM via Signavio-LeanIX integration
The Signavio-LeanIX integration works as well as it does because both tools allow business departments and IT divisions to use the software solutions of their choice, while nonetheless maintaining shared views of company processes and the corresponding IT offerings. Together, this combination of choice and collaboration ensures that business and IT departments operate in unison, to the benefit of both areas.
In exchange for giving BPM teams a more sophisticated way to model and mine their business processes to IT applications, LeanIX users can take advantage of Signavio's next-gen technology to redirect these exact same fully-realized company processes back to their IT inventory to enrich its content.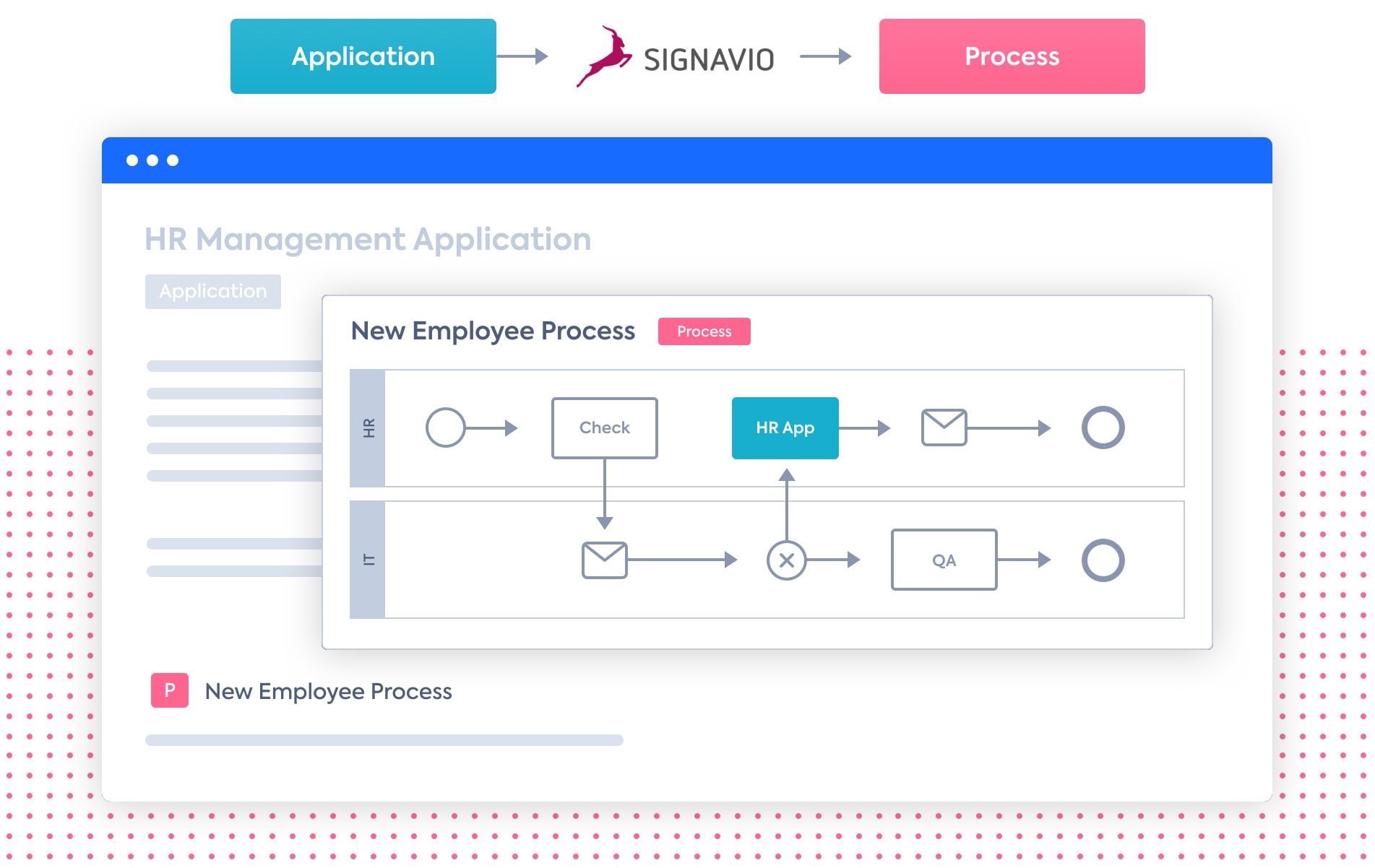 Connecting BPM with EAM has a range of benefits for organizations of all shapes and sizes. It can help ensure:
IT planning is prioritized according to key business processes;
Business processes are rationalized according to all technological risks;
Faster standardization of processes and reduced redundancy; and
Easy-to-configure integration with synchronously-linked data.
Next steps
To find out more about how simple connecting BPM with EAM can be, download your guide to the out-of-the-box EAM and BPM integration developed by Signavio in partnership with LeanIX. (And keep an eye out for future editions, with updates covering new capabilities and technology from both organizations!) In the meantime, if you'd like to get started with your own professional BPM solution, sign up for a free 30-day trial with Signavio today!
Published on: November 19th 2019 - Last modified: March 7th, 2023