Adapting and Innovating
Succeeding will require adapting and innovating your operations, business models, products and services, and employee and customer experiences faster than ever before. And because everything your company does is the sum of all its business processes, this will mean increasing your organization's capacity to envision and execute continuous business process transformation.
Digital Technologies
According to a new study conducted by the SAP Insights research center The Transformation Mindset – New Levers for Growth and Efficiency, involving senior leaders of 10,500 midsize businesses, manufacturing executives agree. This segment from the full report highlights they anticipate using a wide range of digital technologies (see the figure).
Figure: Digital technologies manufacturers will use to improve their processes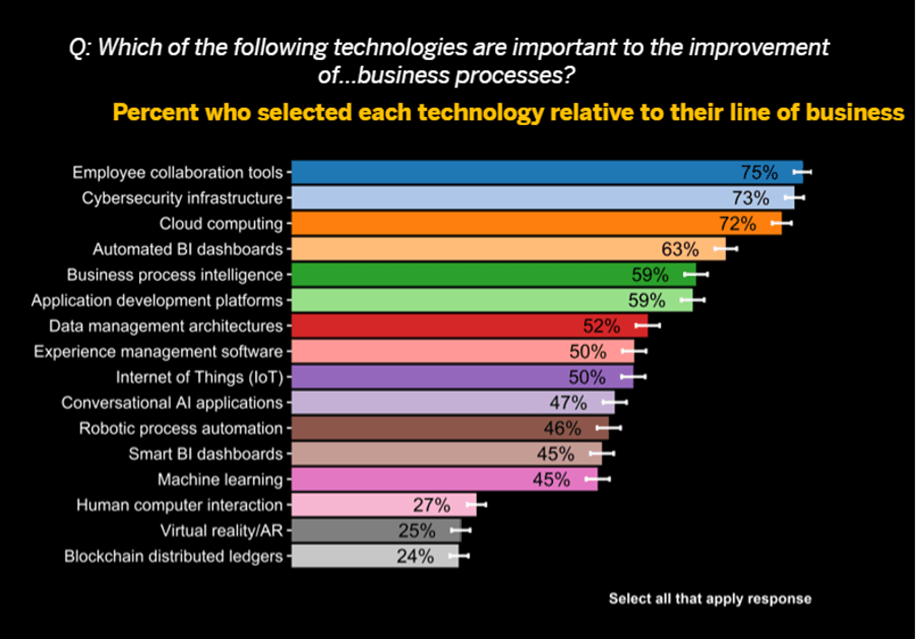 What does this use of new, digital technologies look like for automotive manufacturers, for example? In our work with these companies, they say digital technologies help:
Enable circular manufacturing and renew supply chains with car makers, suppliers, and service providers to drive reusage of parts and materials
Define new business models and collaboratively design and implement business processes and IT solutions that support integrated, flexible mobility needs of customers and maximize the customer experience
Increase the speed of implementing innovative, personalized features and services into cars, manufacturing, and business processes
Similarly, we're seeing industrial manufacturers harness digital technologies to:
Optimize end-to-end manufacturing processes (including sell-from-stock, make-to-order, assemble-to-order processes) through lightning-fast analysis, benchmarking, and powerful, out-of-the-box recommendations
Define and manage service processes enabled by machine data (for example, through the Internet of Things, or IoT) to monitor machine usage and performance, enable timely (OTA) services or maintenance, and actively respond to asset breakdowns or damage
Create (or optimize) customer self-service portals and underlying processes based on individual customer needs, feedback, and customer sentiment
The road to business process transformation
Success requires so much more than just defining a new process and working with IT to integrate digital systems and technologies into otherwise traditional processes. It demands a process-oriented approach that focuses on achieving – and managing – process transformation and excellence in a scalable, collaborative, and data-driven way.
Leveraging granular data and analytical insights into how processes run today and how people experience them, you have the insights and data needed to understand where to act and the recommendations to understand how to act. As a result, you can lead targeted business process transformations that drive results and create happier customers and employees.
A continuous, multistep approach...
It starts by understanding how your processes run today and identifying where you can improve them and achieve the most benefit – for example, through process automation. Process changes should always be driven collaboratively, involving those closest to the work, not just executives. Together, these teams can ensure the new, digitally transformed process achieves the desire business outcomes and in a way that employees embrace quickly. Once processes are launched, they need to be monitored for compliance and continuous improvement.
Learn More
Want to learn more about how to enable successful, scalable, and targeted business process transformation that delivers expected results? Download the new paper from SAP on "Operationalizing Continuous Process Innovation for Discrete Manufacturers: What's Needed to Understand, Improve, and Transform Business Processes Rapidly and at Scale."
Published on: April 4th 2023 - Last modified: March 24th, 2023