Process goal
Have a stand at a trade fair.
Context
Attending a trade fair requires organisation far in advance of the event, with coordination between multiple people and a hard deadline. Checklists help ensure that staff do not forget critical tasks, while capturing dependencies between tasks helps staff manage timelines.
Getting this done requires expertise about which tasks to perform, how long they take, and their dependencies. That makes this process model more suitable for instruction purposes, than as a model for how the work really works in practice.
Trigger
Form - specifies details of the trade fair booking.
Actions
Sometimes you just have a lot to do. This process consists of planning many activities, some of which can happen in parallel, but which may require long timelines.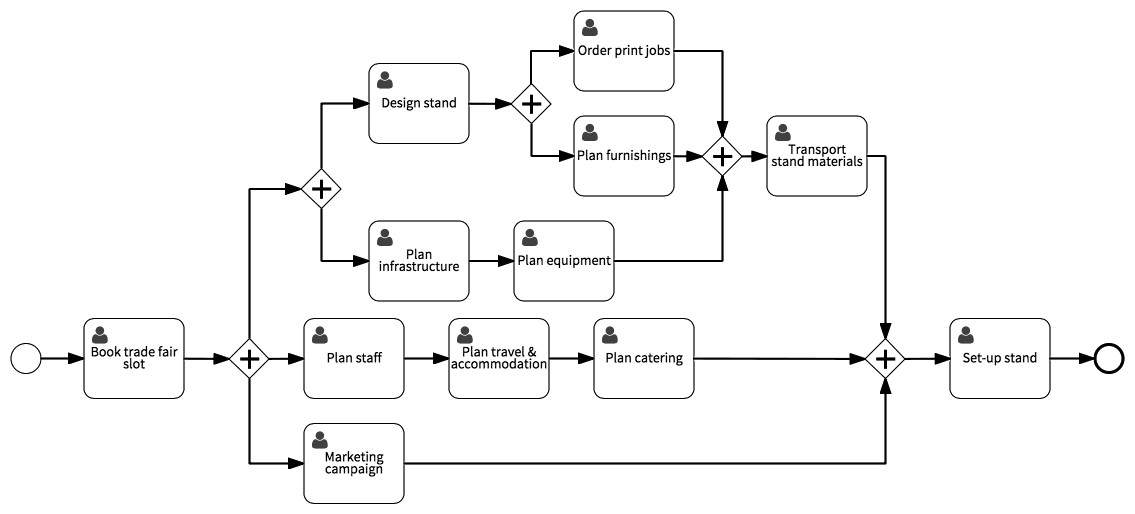 Every user task may have its own due date, reminders and escalation.
Roles
Marketing team member - responsible for the whole process.
Fields
The trigger form specifies trade fair booking details, including the fields:
Trade fair name (Text, mandatory)
Address (Text)
Booth location/number (Text)
Start (Date)
End (Date)
Each task can include its own checklist of requirements or subtasks. For example, the Design booth task might include the Yes/No fields for:
text content
exhibition wall
roll-ups
flyers
brochures
posters.
Extensions
You could simplify this process by extracting design activities, so that this process requires an existing stand design. This might also simplify planning tasks.
The basic version of this process does not rely on roles, on the assumption that team members know who does what. You might find it useful to define roles for different responsibilities, to automate some role assignment.