Sustainable practices
Through all this, consumers are increasingly choosing to do business with companies that align with their personal commitment to reducing their carbon footprint. They want to see evidence of sustainable practices from the companies they buy from. And they proactively seek out eco-friendly products that use fewer environmentally harmful or resource-depleting raw materials. CP companies with strong ESG track records are bolstering their brands and seeing higher sales and customer loyalty. For example, according to "38 Stats That Show Environmental Consciousness Is On The Rise [New Data 2022]":
60% of consumers globally rate sustainability as an important purchasing factor. (In the United States, that number is even higher: 61%.)
52% of consumers want brands to create products with less packaging.
One-third of consumers are willing to pay a premium for sustainable products.
77% of Americans are concerned about the environmental impact of products they buy.
SAP Insights Report Finds Sustainability Is a Top Priority for CP Companies
According to a new study, "The Transformation Mindset – New Levers for Growth and Efficiency," conducted by the SAP Insights research center, CP business leaders are focused on sustainability. Diving deeper, extra insights from the full survey found that among respondents in CP companies, "Increasing the sustainability of products and services" (36%) was the second most cited strategy for driving revenue growth in 2023 and 2024 (see the figure).
This further validates that CP companies and their customers are at a tipping point. Being green costs the business more – and yet companies are seeing this as a strategy for increasing revenues because customers are demanding it and even willing to pay higher prices for greener products.
Figure: Top Priorities for Consumer Products Companies to Increase Revenues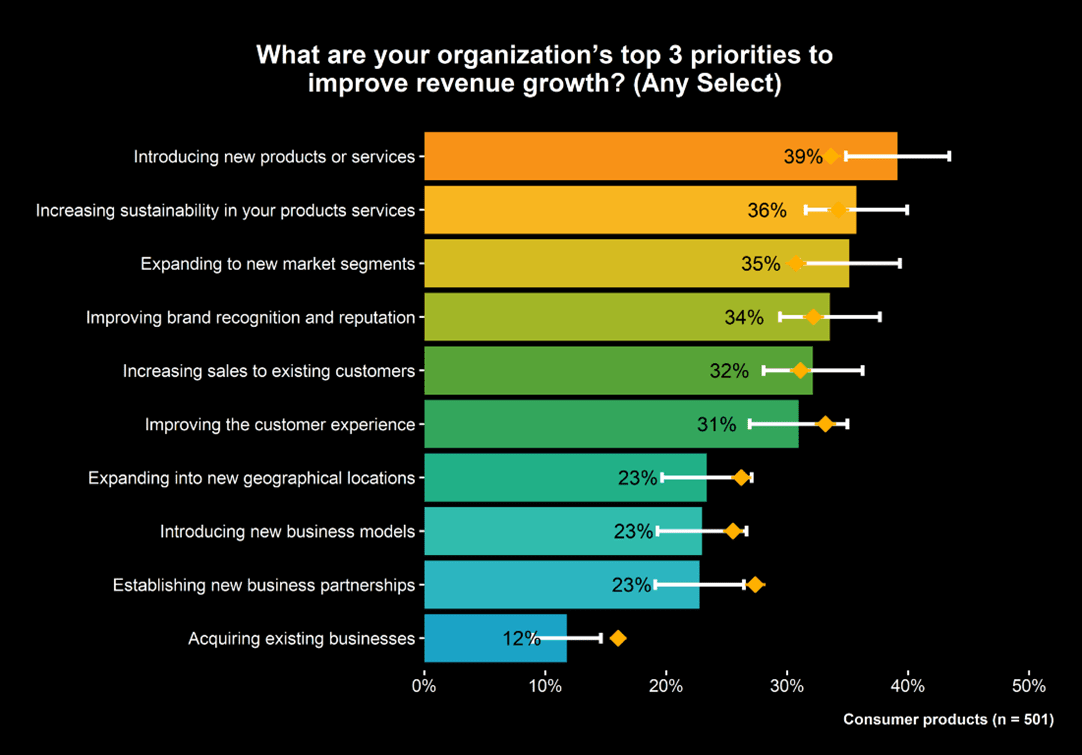 Going green is good for your brand and reputation – and potentially your bottom line.
But to make sustainability strategies work, manufacturers will need to better understand their processes and operations and find new ways to make more sustainable processes less costly and more efficient. There are real and substantially higher costs associated with making more eco-friendly products, using cleaner energy, sourcing more sustainable materials and packaging, adopting circular recycling and reuse practices, and more.
As noted in a recent Harvard Business Review article, "Historically, industry has adjusted to the cost of environmental mandates with price adjustments. Companies that can achieve superior efficiency and effectiveness in environmental spending will indeed find themselves in a classic win-win situation—meeting the nonbusiness-driven expectations of the public and the government while besting their competitors' cost structures."
So, how will you increase operational efficiency and effectiveness to offset the costs of sustainability?
Your business will need to set itself up to stay resilient and agile while continuously transforming and improving core processes to make them more efficient, effective, and sustainable. That's why business process transformation must become a core competency.
Business process transformation is a process-oriented approach that focuses on achieving – and managing – process transformation and excellence in a scalable, collaborative, and data-driven way. Leveraging granular data and analytical insights into how processes run today and how people experience them, business leaders have the insights and data they need to understand where to act and the recommendations to understand how to act. As a result, they can lead targeted business process transformations that drive results and create happier customers and employees.
Find out more
Successfully launching and executing a transformation process is a continuous, multistep process that's best supported by the right software. Learn more about it by downloading our new white paper, "Operationalizing Continuous Process Transformation for Consumer Products Companies: What's Needed to Understand, Improve, and Transform Business Processes Rapidly and at Scale."
Published on: April 11th 2023 - Last modified: March 24th, 2023