Code Camp 2018 - Talk, plan...swim?
Code Camp 2018 took place just last week, in the lovely setting of Linstow, in northern Germany. From the original team of 20 or so people in 2009, Signavio has grown from strength to strength, this year welcoming over 200 employees from our offices in the US, the UK, Switzerland, Germany, Australia, Singapore, and France.
First up, staff were treated to a set of inspiring and honest keynotes from the Signavio leadership team, which managed to combine an appreciation of Signavio's history with a set of big plans for the future.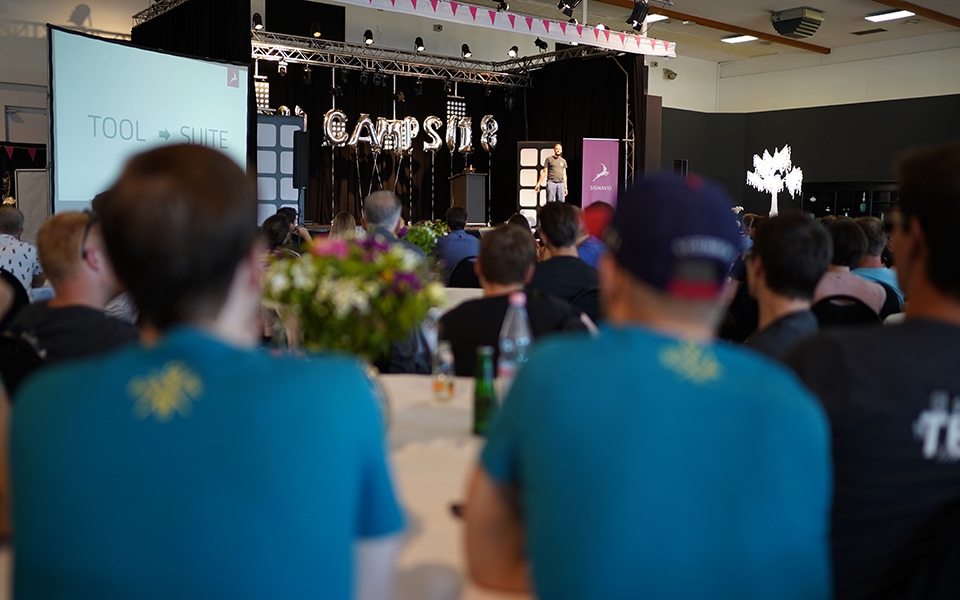 Co-founder and CEO Dr Gero Decker addresses the assembled Signavians.
Usually these presentations would be followed by jumping straight into workshops and coding sessions, but for Code Camp 2018 Signavio broke with tradition, and jumped straight into a lake instead!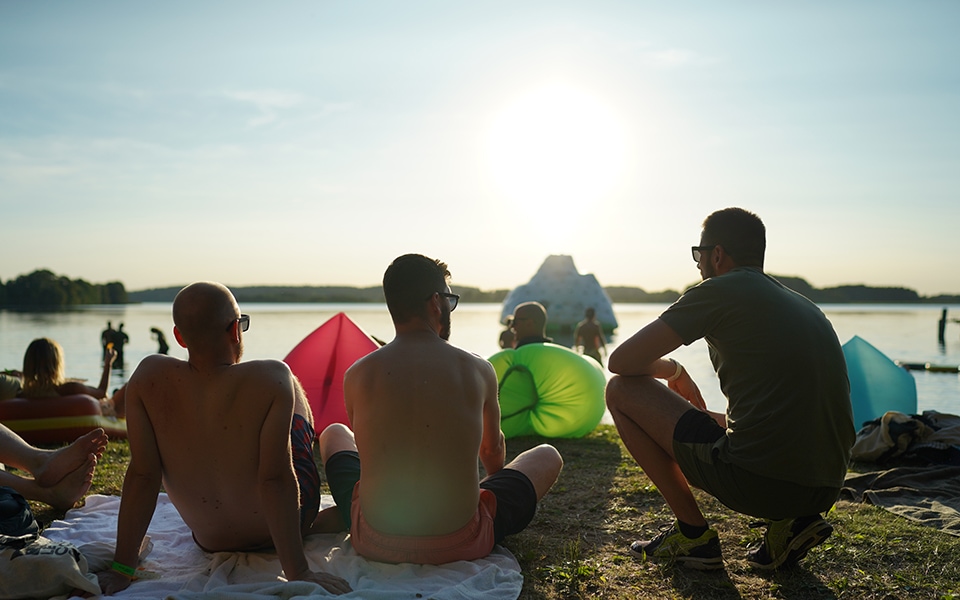 It's a hard life sometimes.
That's right, Code Camp 2018 kicked off with an action-packed 'challenge day' at a nearby swimming spot. With a range of floating obstacles coupled with team-building exercises, we could say it was a metaphor for overcoming challenges through collaboration... but even if not, it was great fun!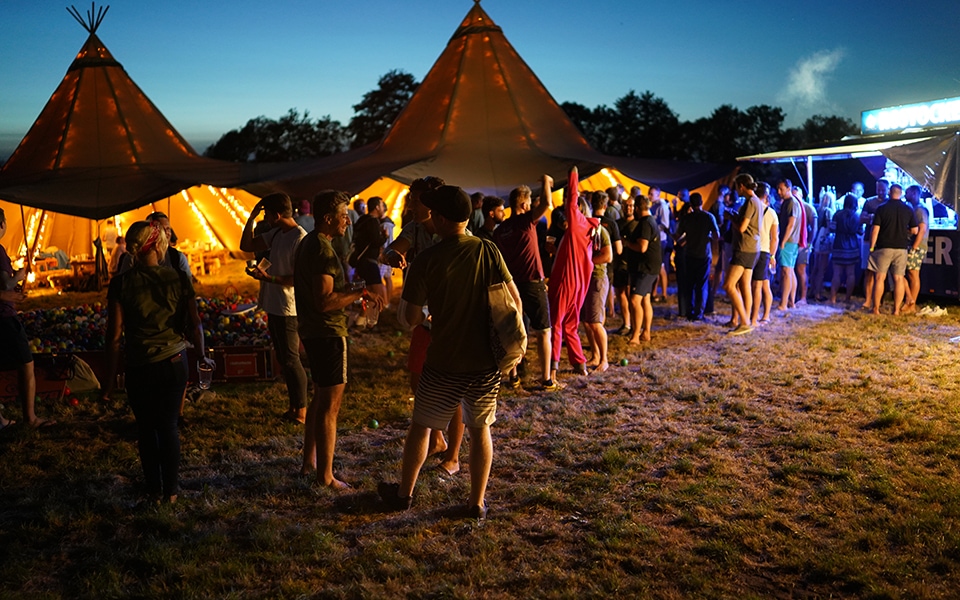 Following a well-deserved dinner, the dancing carried on into the night.
Getting down to business
The next day, work began in earnest, with Signavio's developers plotting their entries into the Signavio Code Camp Excellence Award. Each team in the company spent their day working together on individual projects, and receiving their own dedicated training. In each case, the goal was to make the way we work, and what we do, simpler, faster, and more effective.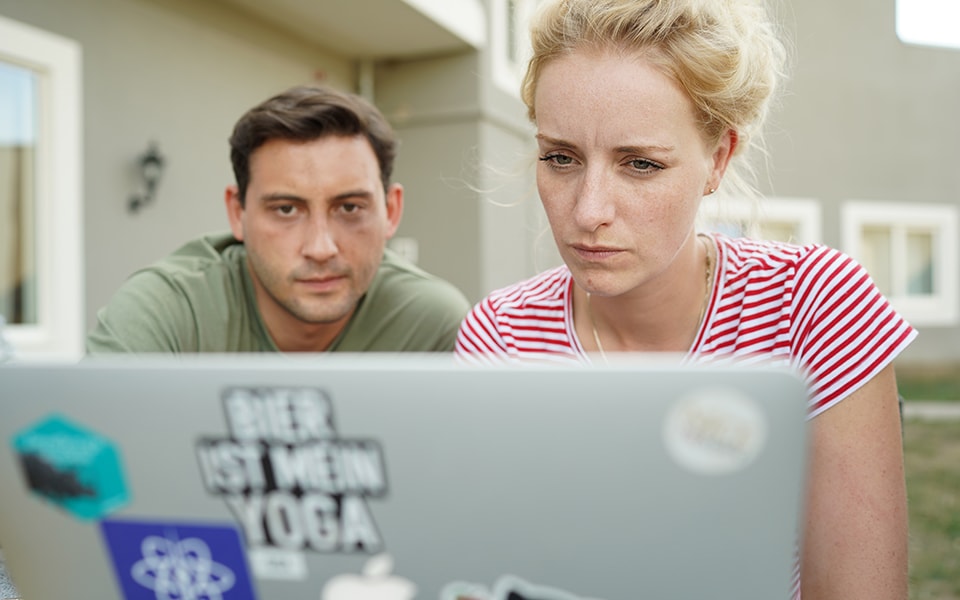 Concentration and collaboration are the keys to success.
That set the tone for Day 3 as well, with teams from across Signavio adding the finishing touches to their plans and projects, ready to hit the ground running as soon as we returned to the office. This included the development teams, who produced a range of technical solutions for problems they'd identified, from an app alerting staff when fresh fruit was available in the Signavio Berlin HQ, to how best to aggregate and act on customer feedback, to a new user guide for first-time users of SAP Signavio Process Manager.
After each team had presented to the assembled Signavians, the number-one project was selected by voting. In the end, the Code Camp 2018 champions won over the crowd with their efforts to boost the power of SAP Signavio Process Intelligence. In doing so, the tool went from being able to handle 6.2 million cases per second, up to a whopping 7.2 billion cases per second. A well-deserved victory!
Party time
If that wasn't enough, the final day of Code Camp was capped off by a special guest, with MC Fitti bringing his uniquely German style of comedy rap to the stage to ensure Code Camp finished on a high. After enjoying festivities into the night, we were happy to relax on the bus back to Berlin the next morning, a little tired, but definitely inspired.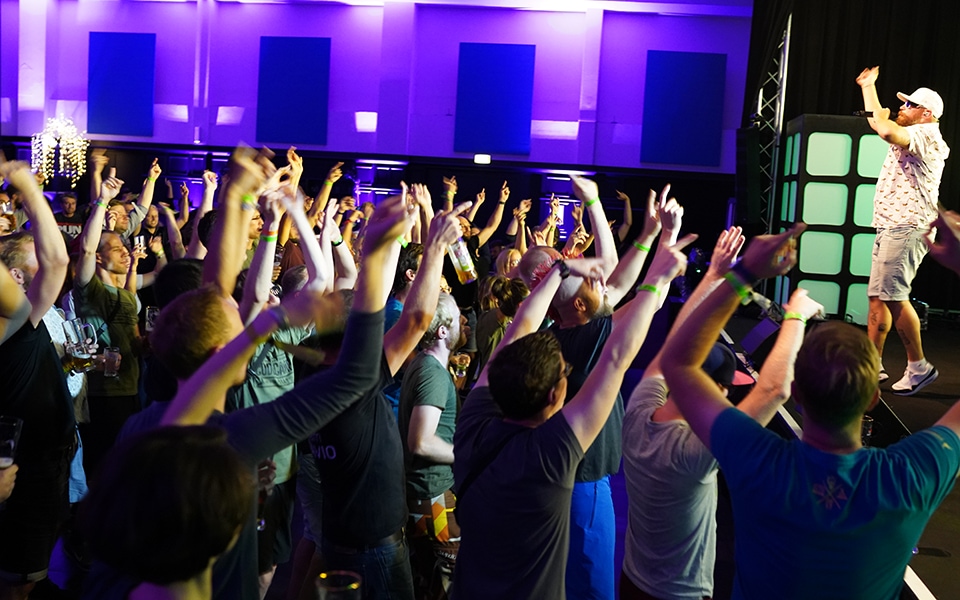 MC Fitti getting the party started.
Bring on Signavio Code Camp 2019!
If you'd like to be involved in next year's festivities, as well as help achieve Signavio's goal of 'BPM for everyone', take a look at what it's like to work for Signavio. You never know, next year it could be you holding aloft the trophy as winner of the Signavio Code Camp Excellence Award!
Published on: August 29th 2018 - Last modified: October 10th, 2022