A Closer Look
So, what did we learn about your peers in CP? We will highlight just a few interesting findings from the full report.
First, longer term, they're less concerned about traditional priorities (like fending off incumbent competitors and new market entrants) and more concerned about global risks that are very much outside their control. They're worried about things like economic stagnation (48%), resource shortages (42%), cybersecurity breakdowns (perhaps because so many employees are still working remotely), infectious disease outbreaks (31%), climate change (36%), and protests (27%).
Second, sustainability is now perceived as key to revenue and efficiency. This is quite the shift because going green nearly always increases costs – often substantially – which shrinks margins and hurts the bottom line. But today, "Increasing the sustainability of products and services" came in as the second most important strategy for increasing revenues. Clearly, we're at a turning point where CP companies are seeing big, strategic investments in sustainability as critical to their brand and reputation. Governments are putting in place environmental, social, and governance mandates, consumers are more informed about the environment, and both are demanding that corporations do what's needed to protect our environment.
And third, they anticipate that achieving their top three business priorities for 2023 and 2024 – increasing revenue (37%), improving efficiency (33%), and reducing risk (29%) – will involve significant technology-driven business process transformation. Consider, for example, how respondents in the CP industry are planning to increase efficiency.
As shown in the figure below, their top strategy is to tighten their belts by better controlling spend. This typically involves taking more manual and spreadsheet-driven planning, tracking, and payment processes digital. And they will need to cut spending because their second most cited strategy – "making operational processes more sustainable," or green – will likely increase operational costs. Achieving this can involve investing in things like circular recycle-and-reuse initiatives, which can go a long way in reducing environmental impacts but can be costly and require significant new processes to support. And their third most cited strategy, "increasing automation," will involve reimagining how work gets done digitally and how core processes work.
Figure: How CP Companies Are Planning to Increase Efficiency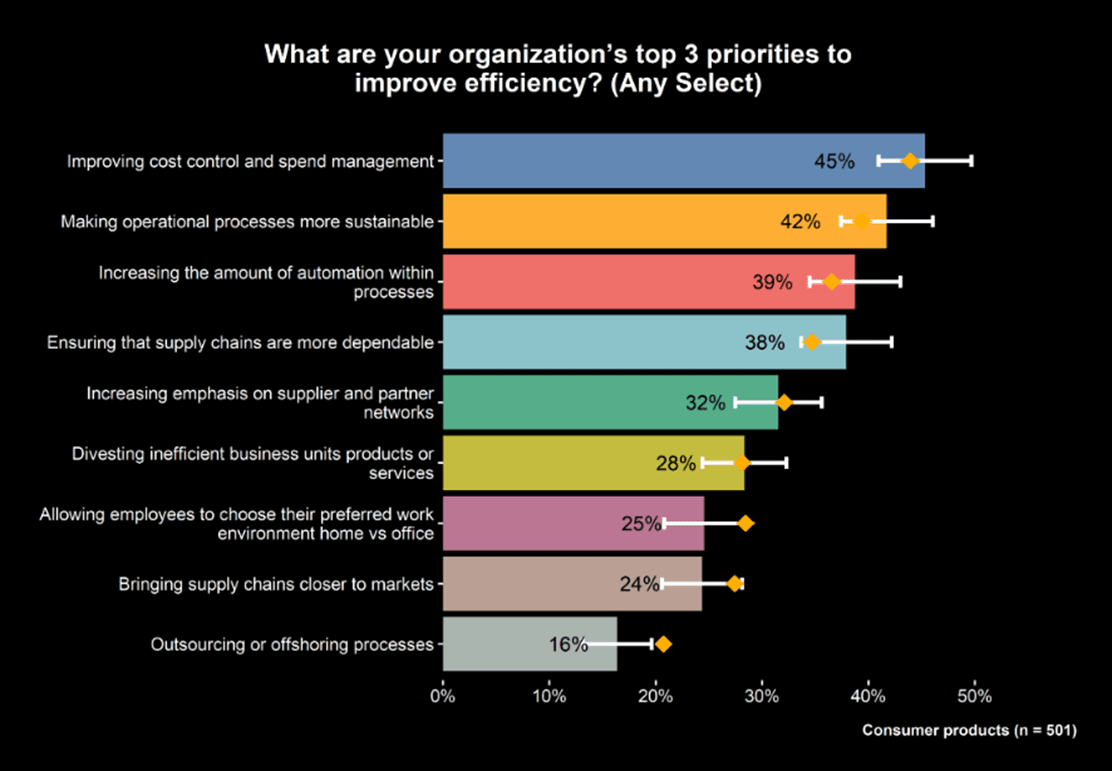 Improve and Transform Processes
All these findings point in one direction: your business needs to modernize how it improves and transforms its processes so it can thrive through whatever challenges and opportunities arise. No wonder the SAP Insights report found that above all else, businesses consider improvements in process flexibility and adaptability to change (41%) as absolutely essential to the future success of their business.
The challenge is how to transform processes safely, reliably, and continuously.
It isn't easy if you have a lot of legacy systems, siloed processes and data, manual and paper-based ways of working, and deep-seated departmental resistance standing in your way. In addition, your underlying infrastructure may be rigid, and there may be fragility in how the tasks in end-to-end processes are being executed. Change one step, and there may be unintended consequences.
Core Competency
That's why CP companies, regardless of where they are in their IT transformation journey, need to make business process transformation a core competency. This requires operationalizing a continuous, multistep approach that starts by understanding how your processes run today and identifying opportunities for the biggest potential return. Your teams can then collaborate on, model, and simulate new processes to determine how to maximize efficiency, such as through process automation. By driving process changes collaboratively and always involving those closest to the work – not just executives – you can achieve to the best business outcomes and ensure rapid adoption. Once you launch transformed processes, you need to monitor your processes for compliance and continuous improvement going forward.
Want to learn more?
Explore how SAP can help you operationalize business process transformation. Download the new paper from SAP on "Operationalizing Continuous Process Transformation for Consumer Products Companies: What's Needed to Understand, Improve, and Transform Business Processes Rapidly and at Scale."
Published on: March 16th 2023 - Last modified: March 24th, 2023