Take your Business Process Management to the next level.
It all starts with SAP Signavio Process Manager, our best-in-class modeling tool. Seamless integration with our other solutions SAP Signavio Process Governance, and SAP Signavio Process Intelligence, makes models built in Process Manager more than just drawings. This turns them into powerful workflows that can be executed consistently and compliantly in accordance with optimized processes. Having your future state processes mapped out is one thing - being able to rapidly initiate them throughout your organization is what really separates successful improvement projects.
When it comes strictly to modeling, SAP Signavio Process Manager also shines. It was designed since Day One for users of any expertise level, with key features such as:
An integrated Collaboration Hub to encourage commenting and knowledge-sharing
Modeling guidelines that ensure the readability and coherence of models
Simulation to analyze costs and runtimes
Approval workflows for process governance
Process architecture modeling support helping to bridge the gap between IT staff and business stakeholders
Reusable subprocesses to reduce repetitive modeling efforts
SAP Signavio Process Manager also has the most intuitive modeling interface on the market thanks in large part to the QuickModel (seen below). Its spreadsheet-like entry fields allow you to document processes within minutes. Simply fill out the table with start and end events, supporting documents, assigned roles, and process steps, and the QuickModel simultaneously generates a process model in BPMN 2.0 standard.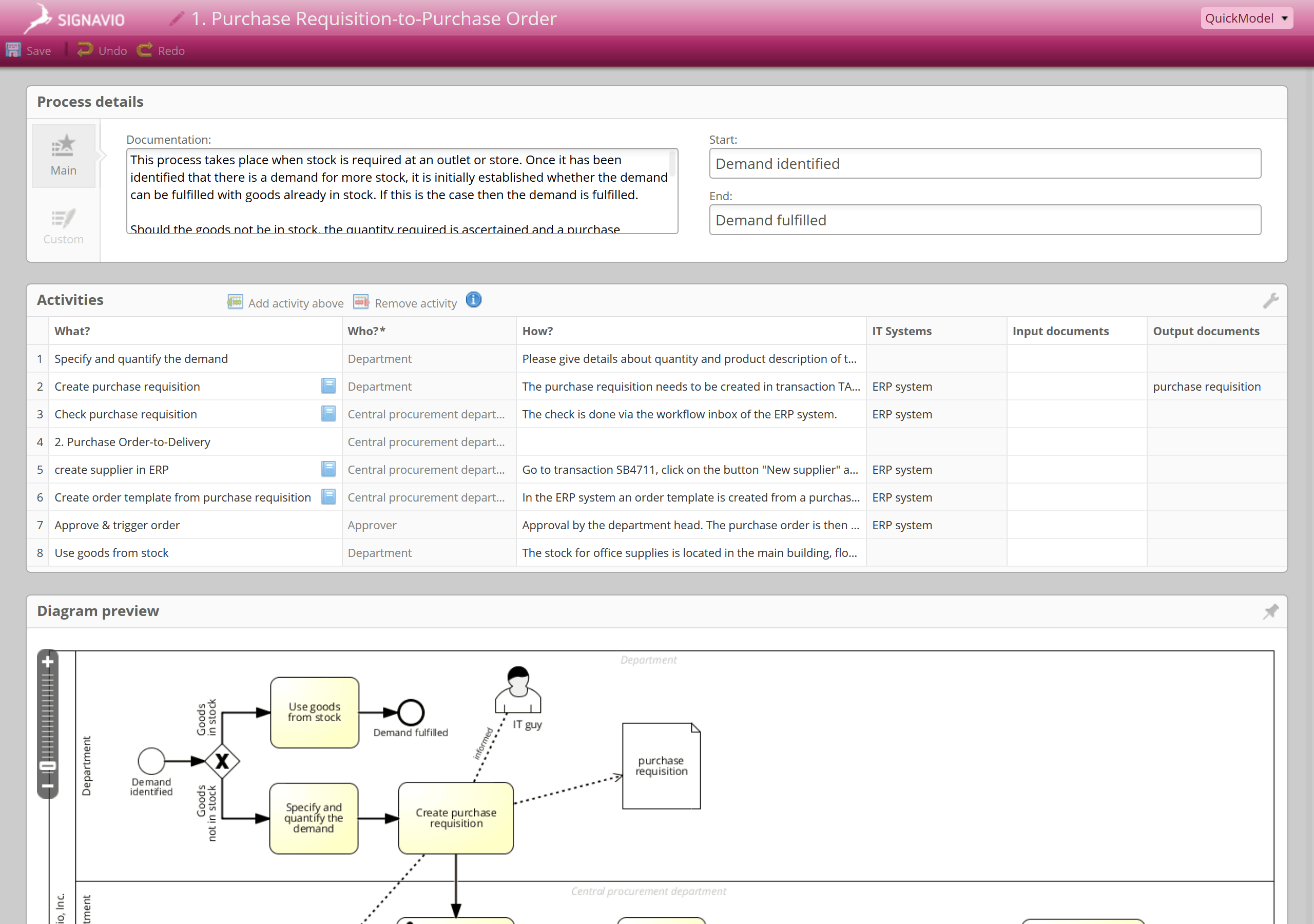 After you've rapidly established this base, you can take advantage of Signavio's extensive drag-and-drop library of modeling shapes for customization. SAP Signavio Process Manager is the BPM tool business users have been waiting for - one that makes things easy while maintaining technical depth.  In this way, it is really more than a Visio alternative.
Process Management is critical to organizational success, and it requires a serious evaluation and comparison of tools. See the SAP Signavio difference for yourself by testing out the entire SAP Signavio Process Transformation Suite free for 30 days.