Continuous business process optimization with SAP Signavio
Business process transformation solutions from SAP are designed to support this effort. They provide a collaborative process-centric approach to business transformation at scale - including the full realization of SAP S/4HANA Cloud value. The solutions can help accelerate transformation initiatives and drive process improvements by embedding process-centricity in a data-driven and collaborative way across the enterprise.
Business process transformation starter pack for RISE with SAP
For the benefit of customers considering RISE with SAP, we have great news: there is the value-adding business process transformation starter pack which is exclusively included in RISE with SAP! The starter pack includes capabilities from three SAP Signavio solutions, and helps you get started on your transformation initiative immediately.
Here are the solutions you can gain first experiences with. Beyond the initial starter pack entitlement, you can expand your usage further so that you can continue to improve and optimize at scale - combining data, expert, and customer-driven insights and recommendations.
SAP Signavio Process Insights delivers instant insights on key performance indicators (KPIs), process performance indicators (PPIs), and industry benchmarks to support critical process-led transformations. 50 GB with one-time load only.
SAP Signavio Process Manager propels and de-risks projects with a comprehensive Cloud-based modeling platform built for multiple use cases, including simulation. 3 users.
SAP Signavio Process Collaboration Hub offers a step-up in communication, collaboration, and knowledge sharing to generate more ideas, optimize processes, and reduce resistance to digital change - laying the foundation for continuous improvement. 10 users.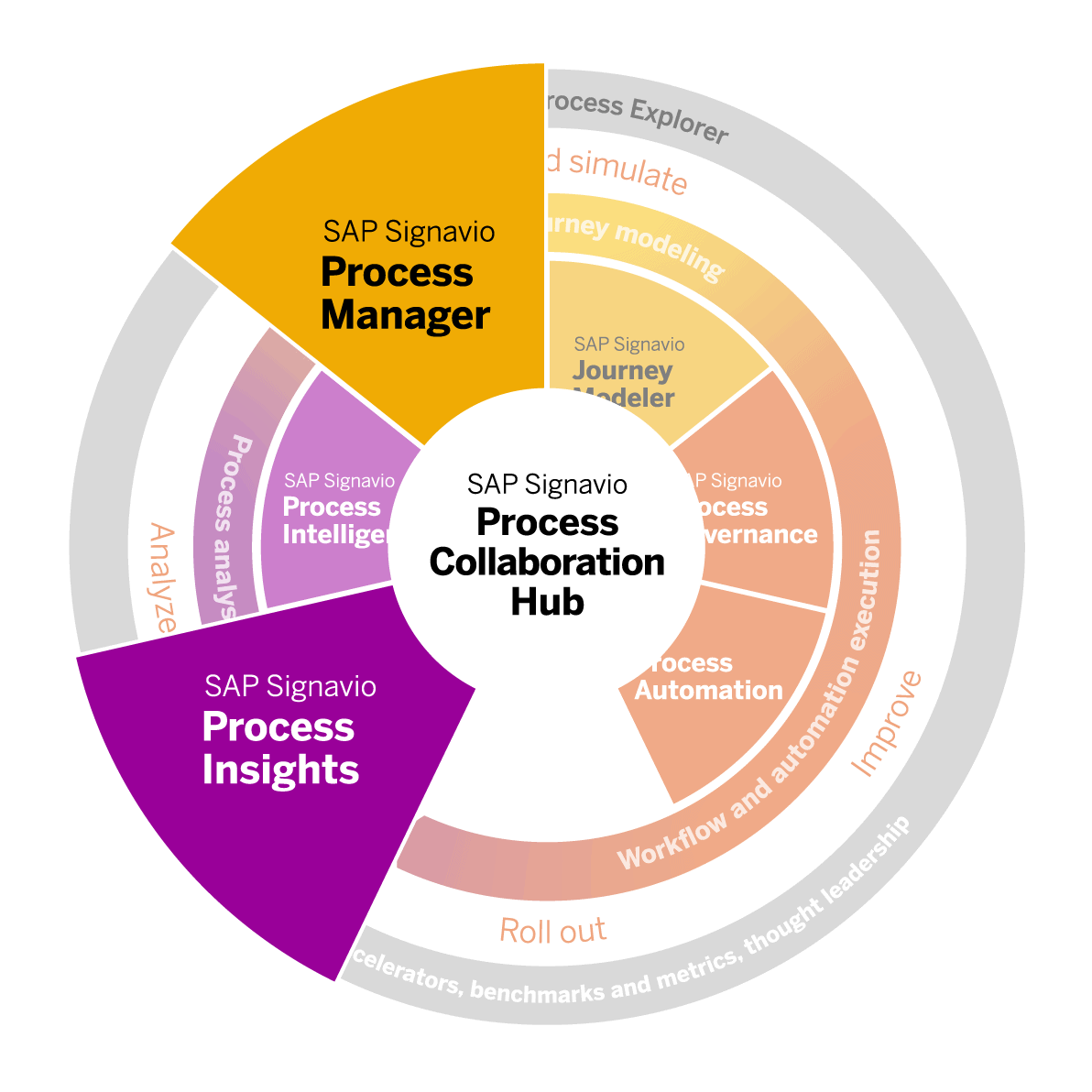 Unleash SAP S/4HANA Cloud potential
The starter pack can help catalyze the full potential of SAP S/4HANA Cloud. Irrespective of the chosen transition path, the starter pack supports teams to come together, bridging the gap between business and IT and simplifying the journey to obtain value from SAP S/4HANA Cloud.
Set impact analysis, and define best approaches for where to improve, why, and how to prioritize resources across the company while collaborating with partners on costs and other crucial parameters. Everybody is kept in the loop in one simple to use, collaborative platform - generating value faster and cementing a sustainable resource and cost structure.
SAP Signavio Process Transformation Suite
But why stop there? The full SAP Signavio solutions portfolio is built to transform your processes continuously. Improvement is not a one-time event but a discipline that should become part of your organization's mindset to meet the expectations of your customers, suppliers and employees. It is a journey without a final destination requiring faster insights for quicker value.
To deliver on the promise of full, continual transformation, visit the SAP Signavio Process Transformation Suite page to unlock the entire portfolio, including process mining, customer excellence drivers, and automated process governance.
Understand, improve, and transform your business processes – fast and at scale!