With more swagger than James Brown, SAP Signavio Process Manager struts its way to smooth integration with SAP® Solution Manager 7.2, empowering simpler collaboration between business and IT.
"Soul Man"
SAP® Solution Manager 7.2 (SolMan) integration
This dynamic combination means Signavio's leading technology streamlines business processes and proactively addresses improvement options, raising efficiency within organizations and upgrading customer experience. The tool becomes the single source of truth for your process and application landscape, and drives continuous and controlled improvement.
SAP Signavio Process Manager also makes processes accessible to the whole organization via an intuitive user interface. It is a modern solution designed to leverage the devices and working practices of today, with the future of your business in mind. But SAP Signavio Process Manager is not only a usability leader; its powerful toolbox is a business analyst's best friend for all aspects of process design.
Furthermore, the integration and use of SAP Signavio Process Manager enables your organization to facilitate business and user involvement in the requirements, specification, and documentation process for SAP® solutions.
Quite simply, Signavio puts the "soul" into SolMan.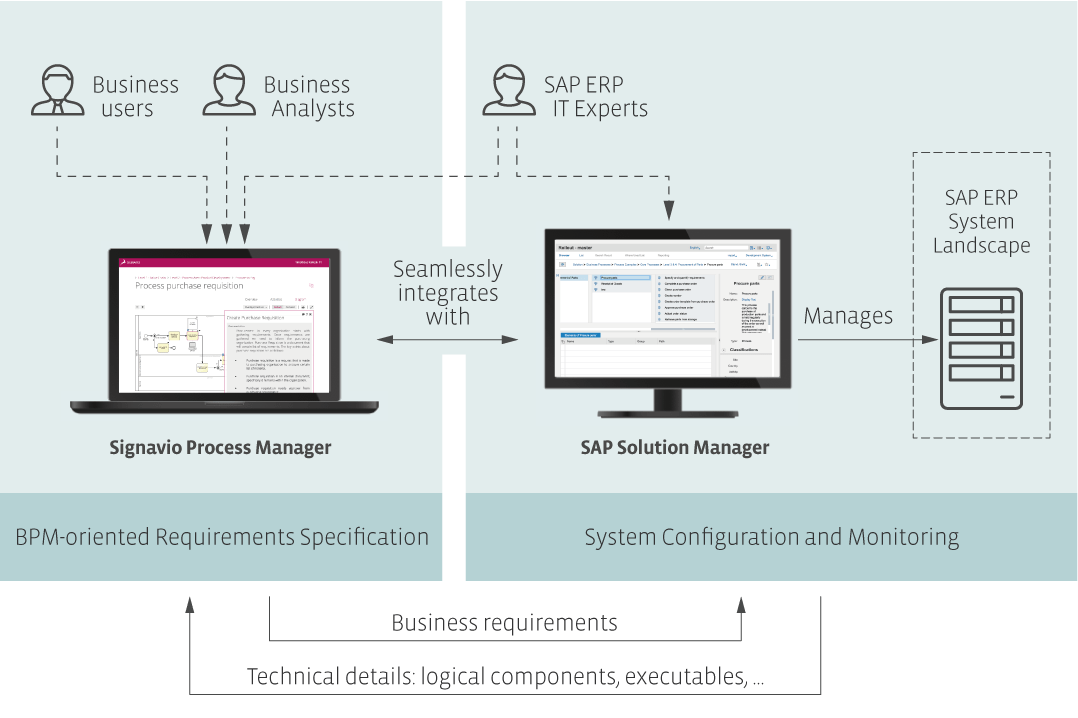 "Lean on me"
The most debonair SolMan integration around
Not only does our leading technology integrate smoothly and effectively, SAP Signavio Process Manager also eases the entire SolMan implementation process. It does this by facilitating user engagement and improving the handover and communication between business and technology stakeholders.
The collaborative capabilities of the software within SAP Signavio Collaboration Hub also ensures that the 'go-live' is more user-friendly, which makes SAP Signavio Process Manager the optimal business and user interface for facilitating Enterprise Resource Planning (ERP) implementations.
As part of the SAP Signavio Process Transformation Suite, SAP Signavio Process Manager provides a user-friendly business perspective on your SAP® implementation project.
... But there's more to our album
SAP Signavio Process Manager is a full Business Process Management tool which covers all relevant aspects of BPM. With the software, processes are no longer buried within a complex system. Instead, they're brought into the light making it far simpler to get all stakeholders involved and working together.
Business analysts, process owners, and application architects use SAP Signavio Process Manager as their tool of choice for process identification, documentation, and requirement specification. The tool delivers robust process and decision-modeling capabilities, which in turn foster company-wide transparency and improved regulatory compliance, helping you manage problems better, and find solutions quicker.
... Keep listening
However, for many companies, business transformation can be difficult to implement, from identifying areas for improvement to analyzing the scope of change and its impact on the organization, and to anticipating potentially negative outcomes.
Having to evaluate regulatory risks—especially when there is a presence in multiple countries—is also daunting. Of course, usually all this is happening while trying to maintain high customer experience and retention. These are tasks that may be well beyond what a CIO or an IT department can manage single-handedly.
And this is where Signavio software comes into its own. We safeguard today's success for tomorrow's triumph.
"Move on up"
Signavio: Robust modeling capabilities
SAP Signavio Process Manager is one of three functional modules within the SAP Signavio Process Transformation Suite. It delivers robust process and decision-modeling capabilities, which in turn foster company-wide transparency and improved regulatory compliance.
Signavio Process Governance is one of the most modern, agile, and intuitive automation workflow systems available today. It comes with numerous functionalities such as form and information routing, escalation management, task distribution, record keeping, and standard operational procedures adoption.
SAP Signavio Process Intelligence carries the baton forward efficiently and effectively by leveraging transactional footprints of data within an organization and translating them into current operational models. Process Intelligence reverse engineers organizational procedures and enables companies to identify process bottlenecks. It also reveals areas that can be improved or enhanced by automation.
Each module can be installed independently or integrated seamlessly with existing systems and business blueprints.
"Get Ready"
Process-change is your special move
The concept of BPM relates more than ever to process-change management, given the pace at which newer enterprise technologies are outmaneuvering predecessors. It has become imperative for companies to keep track of their operational models or risk losing their edge on multiple levels, including market competition and customer relations.
With the game-changing SAP Signavio Process Transformation Suite, we empower organizations to understand their process models and translate goals into operational steps and daily strategies. This allows entities to reimagine, optimize, and reinvent themselves from an operational perspective. At its core, the Signavio platform redefines enterprise collaboration for organizational change, harnessing employee knowledge to give a more granular-level view of processes.
Employee knowledge and pinpoint particle-level data is the nucleus of achievement. It reveals the soul of a company and allows the inner workings of an organization to be nurtured, maintained, understood, and most importantly; reflected upon. From little things big things grow.
We all need soul, man.
"Good Times"
SAP® Solution Manager 7.2 integration
Combining technical depth with an easy-to-use interface, SAP Signavio Process Manager puts your ERP system implementation on the path to business excellence. As part of the SAP Signavio Process Transformation Suite, Try it for yourself by registering for a free 30-day trial.
Published on: March 12th 2018 - Last modified: November 13th, 2020